In Midnight's Kiss (Elder Races #8) by Thea Harrison, Even two decades later, tempers (and attraction) still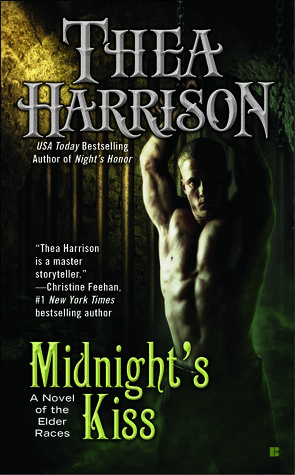 flare when Julian and Melisande are in each other's presence. As the Nightkind King, Vampyre Julian has been trying to keep the peace between the elders committee when there is an attack on one of his progeny as well as against Melly, daughter of the Light Fae Queen. She is held against her will, and forced to watch as her captor, Justine, goes after her true target: Julian.
"You're delusional if you think I would ever let you take me again, after the way you've treated me. You see this?" With her free hand, she waved her fingers in the air down the length of her torso as she shook her head. "I've said it before, and I'll say it again. You're neeevvver getting this goodness again."
…As his fangs descended and his eyes flashed red, he told her, "We'll see about that, princess. We'll see."
Regardless of the discontent between them, Julian puts himself in harm's way to save Melly. But breaking themselves free from Justine's clutches will be be difficult and could be only the beginning for these ex-lovers. In a race to save Vampyres and Fae alike, Melly and Julian will have to put aside their differences and focus on gathering their allies to take down Justine and the traitors among their people. Maybe then they can finally move beyond their complicated past and perhaps have a new beginning — together.
He ran his fingers along her cheek and stroked her soft, smiling lips. "I adore you, you know," he told her quietly. "Just so that we're clear."
Adore. What an exotic, extravagant word. He couldn't remember ever saying it to anyone else.
Vampyres and other fantasical creatures are plentiful in this fast-paced paranormal romance from Thea Harrison. Be ready for a second chance at romance when Julian and Melisande join forces to defeat a threat to their people, and their own lives, as well.
This being book eight in the Elder Races series, it left me at a disadvantage when I began reading. It admittedly took me a little bit to figure out the worldscape and the characters, but once I did, I was hooked. I was impressed with the intelligent way Ms. Harrison wrote not only her characters, but also the detailing of each scene and how the story continued to build until the conclusion. There was a complexity to the storyline that seemed like it fit, given that the majority of the Vampyres and other characters had lived for millennia. So there would have been a fair amount of politics and manipulation being used in their lives, which was very evident.
As for Melly and Julian, who doesn't like a good reunion story? Especially when the couple has never been able to move on and there is still such an intense connection between them. I wasn't really sure about Melly at first because she came across as a tad immature to me. But as I got to know her personality, I could see that she was actually just very fun and lighthearted the majority of the time, loving to laugh and tease. I thought Melly was a perfect balance to Julian's dark and brooding persona. He was a warrior first and then became Nightkind King, so he was as tough as they get. But he also had a lot of love for Melly and she brought out a tenderness in Julian that was truly a joy to watch.
It sounds like fans of the Elder Races series have been waiting for Julian and Melisande to get their chance at a HEA. I think you will be pleased with their slow burn romance and the final resolution as this story plays out.
Book Info:

Publication: May 5th 2015 by Berkley Sensation | (Elder Races #8)
In the latest Novel of the Elder Races, two souls who have long buried their passions are about to be consumed…
Ever since their scorching affair ended years ago, Julian, the Nightkind King, and Melisande, daughter of the Light Fae Queen, have tried to put the past behind them—and distance between them. But when a war breaks out between Julian and Justine, a powerful Vampyre of the Nightkind council, they find themselves thrown together under treacherous circumstances…
Kidnapped as leverage against Julian, Melly is convinced that her former lover won't be rushing to her rescue. But when Julian gives himself up to save her, they both end up Justine's captives. Armed only with their wits and their anger, Melly and Julian must work together to escape. But will they be able to ignore their complicated history, or will the fiery passion that once burned them blaze again?