Stay with Me / More of Me (The Montgomery Brothers #3-3.5) by Samantha Chase is a two in one story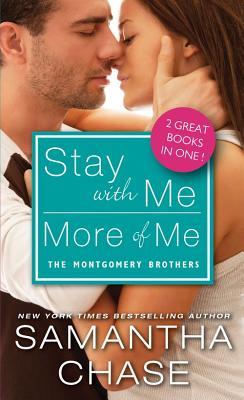 about MacKenzie (Mac) and Gina and Mac's cousin, Ryder and Casey and like the other books in this series these stores do not disappoint.
I have read the other books in this series, and have loved them all. These two stories are no exception to that rule. Each Montgomery story is different but they all have HOT, SEXY and very rich in common. They are the kind of men that love their women, know how to treat them right and are in in the for long haul.
Gina and Casey are both very smart, independent women who love Mac and Ryder and could care how much money that they had.
These books are about love and family. They are about how they have each others backs and help out when someone is in need. Like any great HEA the road to finding that forever love is not easy for these characters, but then nothing worth having ever is. I loved everything about watching the relationships between these couples grow and develop despite the problems that tried to stand in their way.
I would recommend Stay with Me & More of Me by Samantha Chase to anyone that loves a great HEA with strong family ties.
Book Info:

Publication: April 21st 2015 by Sourcebooks Casablanca |(The Montgomery Brothers #3-3.5)
Was a little peace and quiet too much to hope for?
Mac Montgomery spent two years watching his father play matchmaker for his brothers and their wives and as the last Montgomery standing, he knew it wouldn't be long until all eyes would be on him. While he couldn't deny that things had worked out well for his siblings, the last thing that Mac wanted was to get married and settle down.
He hadn't counted on his father not wanting to set him up with anyone.
And he hadn't counted on Gina Micelli.
After more than a dozen years away from her beloved family friends, Gina Micelli comes home to take care of her ailing father. Some of her most cherished memories are of the times she spent with the Montgomerys – and her crush on Mac. She was a child when she moved away, but now as a grown woman, the thought of seeing Mac again actually has her wondering at the possibilities.
Ever the responsible one, Mac makes sure that Gina is taken care of during such an emotional time. He wants to see her as a friend, as the girl that he remembers from his youth. Unfortunately, the beautiful woman she has grown into has all thoughts of a platonic relationship flying out the window. Torn between honor and passion and peace or chaos, all Mac knows is that his life is never going to be the same.
The timing is all wrong but for two people fighting for control over their own lives, their response to one another is anything but
"More of Me" introduces us to some Montgomery cousins! This novella was a bonus story in the "All of Me" box set and is available for a limited time as a single title release!
Ryder Montgomery has returned to North Carolina to take a break from the corporate world and the first item on his agenda is to look up the woman he walked away from more than ten years ago. Casey is currently going to be playing a big role in the Montgomery family's lives and when paired up with Ryder, it doesn't take long for old sparks to reignite!