The author of My Double Life Joanne Rock, has herself a new fan! I loved these books! BUT, I'm feeling like torturing you a little bit so I'm only going to give you a run-down of the first one. Trust me, one you hear about this one, I won't NEED to tell you about the other. So hop to it and go pick up this "2 for the price of 1" double feature!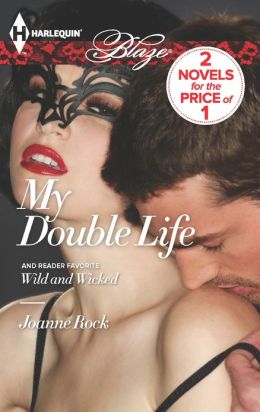 My Double Life was so much fun. Now, I'm a chick that loves books set in California.
Courtney is an awesome heroine. She is so incredibly relatable. She's a CPA but right now, she's a researcher at a risk management/wealth management firm. She has a speech impediment – she stutters when she's nervous or around new people (but she doesn't like the word 'stutter') so she had a very hard time interviewing and just feels thankful that she was given a chance. Of course, she's capable of so much more but she's happy where she's at. I was rooting for her from the very beginning. She's so sweet and kind and caring. She's a really great friend, even if she DOES have a hard time getting comfortable with people. She's a very hard worker at her job and now she's working on being more confident. After a bachelorette party held at gym that specializes in pole dancing exercise, she finds that she loves it! She has no desire to be a stripper but she loves the freedom of feeling like someone else and letting her inner goddess out. It's SO MUCH FUN to watch her transform from her shy, unassuming self into this sexy, bold dancer! Gah! She's great!
Trey is awesome in his own way. He's the son of a Hollywood legend. But he's trying to make his own way, not follow in his father's footsteps. That must be just fine with Trey's dad since it seems that he tries to thwart Trey's every attempt to make it on his own. Trey doesn't get it… he doesn't get why his dad wants to undermine everything he does. So Trey goes to this risk management agency so that he can see what he needs to do so he can start up his own company. So Hollywood is in Trey's blood. But he's not some douchey Hollywood-type. He loves the movie business, he loves making movies. He's willing to work hard to get what he wants. Sure, he's gorgeous, but he's also a sweet and warm guy.
Trey meets Courtney when he goes to the risk management company where Courtney works. Well, actually, they sort of meet. Trey introduces himself to Courtney because he's immediately drawn to her and he's not sure why. Courtney stammers and rushes off to her cubicle. Not an auspicious meeting, for sure. But it's only the beginning for these two.
Another great aspect to this book was that it's a Hollywood-type novel but it doesn't have any of the skeevy Hollywood-types. It definitely shows the nice, shiny side of Hollywood and to be completely honest, that's the side I want to read about. I know it must be tough to actually live in LA and be around all of those perfect people and ugh, all that traffic! But I want to read about the fun stuff! And this book delivers!
Also, just the concept of this book appealed to me. I think it's going to appeal to a lot of you too. I think there are lots of women out there who are like Courtney. We have our day jobs, which we love or not, but we have these, sort of, secret desires. I don't mean sexual; I just mean, things we wish we could do. It was great to see Courtney be bold and daring and to see her go out on a limb like she does. I could almost feel the rush that Courtney feels when she lets go!
Obviously, I highly recommend this book. It was so much fun but it also tackled some serious issues with the characters. I really think that if you give this book a shot, you'll love it. Plus, you'll get a second, equally awesome book to read… for free!! 🙂
Book Info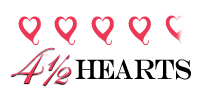 Publication Date: April 23, 2013 | Series: Harlequin Blaze (Book 749)
2 Complete Novels for 1 Price!My Double Life: A new sizzling sensual adventure…
As a financial researcher at a successful firm, I'm all about professionalism. At the office I'm calm, capable…and when a delish new client like Trey Fraser shows up, I retreat behind a facade that hides my deepest insecurities.
Pole-dancing class makes me come alive. So when I'm asked to stand in as a feature dancer for one night, all I need is a mask and the knowledge that as "Natalie Night," I'm irresistible. But when I see Trey in the front row, I turn up the heat—big-time! And suddenly I'm offering a provocative private dance meant only for him….
My alter ego has just opened the door to the one man who is totally off-limits. The man whose eyes tell me how badly he wants me. And the one man who can never know who I really am…
Reader favorite Wild and Wicked: How does a girl make her sexy best friend notice her as a woman? Why, kidnap him, of course!