A Fine Romance by Christi Barth is Book Two in the Aisle Bound Series
Mira Parrish is used to having control and making sure that everything goes her way. So when she first arrives at the airport in Chicago she expects for everything to go according to plan. Unfortunately, the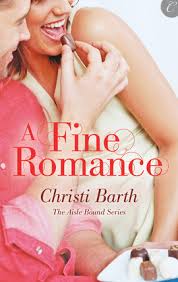 friend her friend Ivy asked to pick her up fails to show up, and an independent streak Mira decides to take the El to her new roommate's apartment.
Sam Lyons is a baker extraordinaire, his family has sacrificed a lot to make the bakery as successful as it is now. But that is not his dream, he wants to be a chocolatier, that is his passion. He went to Europe to learn from the best, and he can make the best chocolate ever. Unfortunately, while he was in Europe his father suffered a heart attack, and while he was stuck in the airport trying to get home, his father died, leaving him with a letter and the weight of his family on his shoulders.
Now Mira upset at being stood up at the airport is not very receptive towards Sam, even if the attraction and chemistry is not going to be easily ignored.
Mishaps will abound with these two, but also lots of fun and sparks that will keep things lively. They each have secrets that they don't want everyone to know about, but if they are to have something special the will have to trust in the opinion and their love for each other, even if their stubbornness, independence and hardheadedness will not make thing easy.
If you like a fun contemporary romance, you will like A Fine Romance by Christi Barth.
Book Info
Publisher: Carina Press – Publication Date: March 11, 2013
Book Two in the Aisle Bound Series
They say you form your first impression of someone within thirty seconds of meeting them. Or, in Mira Parrish's case, within thirty minutes of not meeting them, when said person is supposed to pick you up from the airport and never shows. This is not a perfect start to her new life. Her friend Ivy is depending on her to run a new romance store, and Mira can't afford to let her down.
Sam Lyons should probably apologize. But every time he sees Mira–which is often, since his family owns the bakery next to her shop–he can't resist antagonizing her. There's something about the sexy, straight-laced woman that drives him crazy. He can't get involved, though. He has too much baggage to be any good in a serious relationship.
Despite his teasing attitude, Mira finds Sam too sweet to resist. (His hot body may be a factor.) But if there's going to be anything permanent between them, they'll need to let go of their pasts and look to the future…