In The Love Shack by Christie Ridgway, Skye Alexander is the keeper of Crescent Cove…a beach getaway on the coast of California that has been in her family for decades. She spent magical summers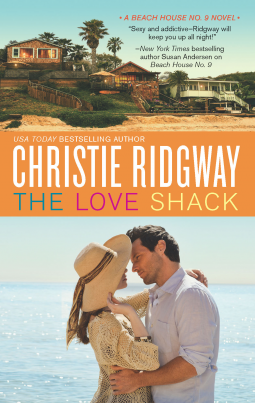 there as a child and is thrilled to have some of her childhood friends coming back this summer to catch up. She's been battling some demons through the off-season and has tried filling her time writing letters as a pen pal to longtime friend Gage Lowell who's traveling overseas as a photojournalist. His twin brother Griffin is having a wedding at infamous Beach House No. 9 this summer and she hopes Gage will write that he'll visit also. When he shows up unexpectedly after no communication with anyone for a few weeks, she is both shocked and overjoyed to see him alive and well.
"They lifted their gazes at the same time and he stared into her eyes, their color the deep ocean green where every mystery of the universe dwelled. He couldn't breathe."
They spend time together during his stay and find that they have a strong connection, not just on paper, but physically as well. They both have secrets they don't want to share with family or friends but find they may be able to get through their issues together.
"And that's when she realized her response to Gage wasn't her usual apprehension at all. This reaction of her body didn't signal anxiety–it had just been so long since she'd experienced it she hadn't immediately recognized what it truly was. Desire."
Gage Lowell has traveled as a photojournalist in some extremely dangerous areas of the world. His last assignment is one he doesn't wish to repeat and he's hoping he can get back to feeling like his old self after a vacation at Crescent Cove. He especially can't wait to see Skye. Her letters got him through his ordeal and he wants to tell her so in person and spend time getting to know her better. He's knocked out when he arrives to see what a beautiful woman she has become. He feels a protectiveness around her that he's not used to and finds himself trying to help her through a tough situation, only to realize that she's helping him just as much. Their attraction can't be denied and Gage worries how much it will hurt them both when he has to leave for his next assignment.
Christie Ridgway has written a truly romantic and enchanting tale about childhood friends reconnecting, unrequited love and conquering fears. The Pacific ocean is the perfect backdrop for this love story and her description of the beach and its inhabitants were so detailed I swear I could hear the waves crashing! Skye and Gage were such an interesting couple after what they had both been through personally…you can't help but hope they find a happy ending together. I love that there were other romances with the secondary characters as well. It rounded out the story quite well and gave you something else to cheer about.
Book Info
Publisher:
 Harlequin HQN Release date: March 26, 2013
Return to 
USA TODAY
 bestselling author Christie Ridgeway's Crescent Cove, California, where the magic of summer can last forever…
Globe-trotting photojournalist Gage Lowell spent carefree childhood summers in Crescent Cove. Now that he desperately needs some R & R, he books a vacation at Beach House No. 9—ready to soak up some sun and surprise old friend and property manager Skye Alexander. Their long-distance letters got him through a dangerous time he can't otherwise talk about. But when he arrives, the tightly wound beauty isn't exactly happy to see him.
Skye knows any red-blooded woman would be thrilled to spend time with gorgeous, sexy Gage. But she harbors secrets of her own, including that she might just be a little bit in love with him. And she's convinced the restless wanderer won't stay long enough for her to dare share her past—or dream of a future together. Luckily for them both, summer at Crescent Cove has a way of making the impossible happen….