My One True Highlander: Suzanne Enoch continues her No Ordinary Hero series with the second book – My One True Highlander. Ms.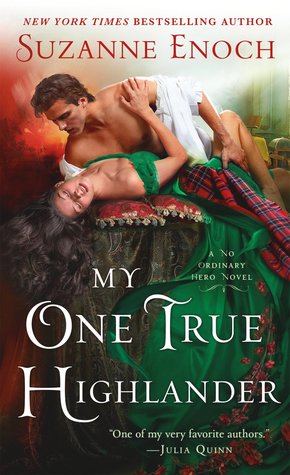 Enoch is one of my favorite authors, and her books set in the Scottish Highlands never fail to disappoint. My One True Highlander is a heartwarming and fun romance with sweet moments and sexy interludes, and I highly recommend it.
Marjorie is headed to the Highlands from London in order to surprise her brother, the Duke of Lattimer, and attend his upcoming wedding. Right before she reaches her brother's estate, she's clumsily kidnapped by three brothers ranging in age from eight to sixteen. The Maxton siblings thought to "borrow" Marjorie to use her to bribe their enemy, the Duke of Dunncreigh and chief of the Clan Maxwell, who has been threatening their eldest brother with financial ruin while also feuding with Marjorie's brother. They plan to give Marjorie to the Maxwell in order for him to use her as a tool against her brother thus earning them his gratitude and a reprieve from his threats.
When the boys bring Marjorie home to their brother, Graeme, he's not happy. He knows giving Marjorie to the Maxwell would be dangerous to an innocent woman, and the plan would surely backfire. Unfortunately, the brothers are all potentially in a load of trouble for kidnapping her; therefore, he can't let Marjorie go until he can figure how to get out of this situation unscathed. What starts as brothers making a somewhat-innocent attempt to fix a tough situation, becomes much more than anyone bargained for. As Graeme and Marjorie get to know each other – albeit during odd and sometimes tense circumstances – they discover a fierce attraction and begin to develop feelings for each other.
The Maxwell brothers are an endearing family and add a charming touch to the story. Graeme has raised his three brothers for the past seven years since he was twenty years old. It's a heavy responsibility for a man so young, but he manages the best he can and loves his brothers fiercely. They are a sweet family unit and make this a truly heartwarming romance, especially because Marjorie has never had much of a family but has longed for one.
Graeme is everything you'd want in a hero – he's a little bit alpha-male but with a sensitive and romantic side. He and Marjorie have sizzling chemistry, trade hilarious banter and hare intimate and heartfelt moments. My One True Highlander is a wonderful Scottish historical romance.

Book Info:

Publication: 4/4/17 | St. Martin's Paperbacks | No Ordinary Hero #2
Rugged highlander Graeme has one thing on his mind—take a stand against the horrible Englishman Lattimer and he will be rewarded with enough money to be set for life. But when his reckless younger brothers take it one step too far and kidnaps a young woman on her way to see Lattimer, Graeme has to intervene. He cannot send the lady back without his kin getting in trouble. And when a damsel this beautiful is dropped into your lap, it's hard to let her go…
Marjorie should be terrified she's been captured by highland scoundrels, but it's hard to live in terror when your captor is a devilishly handsome and sinfully tempting as Graeme is. She cannot stay by his side forever—no matter how her heart may pound at the thought—but Graeme seems to have other plans. This wicked highlander is out to seduce her and doesn't plan to stop until she's in his arms…forever…