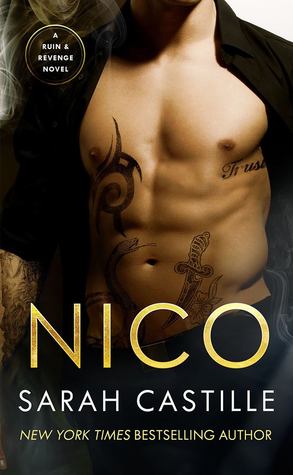 Nico by Sarah Castille is book one in the Ruin and Revenge series and revolves around the Mafia. At the very least, you expect passionate moments, non-stop action, and family loyalty, whether they deserve it or not.
Mia is a computer hacker. She's also the daughter of a very dangerous crime lord. She's not the typical mafia princess and keeps trying to break off from that life, but it's not that easy. To her family, she's a pawn to trade at a moment's notice and no matter what she tries to do, she always gets sucked back in. Her father is a real piece of work. He screams at her and beats her, but the thing is, he can't break her. Mia is surprisingly strong and when she runs into Nico, the life she so desperately wanted out of becomes harder to leave.
Nico is a bad guy but not as bad as the other Mafia members. He's a bad guy that delivers justice to other bad men. He doesn't believe in hurting women and refuses to make his money through drug trafficking or prostitution. He's a criminal, but he's fair and someone who you would want on your side. When he first sees Mia, he's gone. He wants her in any way he can get her, but then he learns that she is the daughter of his enemy. But that still doesn't decrease his want for her, even though it should.
"Electricity crackled in the air between them. He cupped her jaw with his hand, his eyes narrowing on her mouth. She saw the pulse throb in his neck. He wanted her. And in that moment, she wanted him like she'd never wanted a man before."
Nico and Mia certainly burn up the pages together, but passion must take a back seat when it comes to justice. Nico has been after justice ever since Mia's family killed his father years ago and nothing will stop him from getting it. Will love save him?
The secondary characters are full of intrigue. As readers get towards the end of the story, we find out just what type of people they really are and most of them are a surprise. I was very judgmental about Mia's mom in the beginning but she shows a different side at the end and has quite the explanation for her behavior. I also became a fan of a couple of Nico's men. They're not evil. They are loyal, protective, and have their own sense of right and wrong. Overall, this was a great read that you won't want to put down. If you're a fan of Mafia romances, this should be your next read!

Book Info:

 December 6th, 2016 | St. Martin's Paperbacks | Ruin and Revenge #1
A dangerous proposal
Las Vegas Mafia boss, Nico Toscani, is used to getting what he wants, whether it is having the City of Sin under his rule or a beautiful woman in his bed. But when he meets his match in the gorgeous, headstrong Mia Cordano, the daughter of a rival crime lord, all bets are off. . .
Sexy computer hacker, Mia, struggles to break free of her ruthless father's Mafia ties…but she can't resist the powerful and seductive Nico, who will stop at nothing to possess her. With their families locked in a brutal war for control of the city, Mia and Nico enter into a forbidden game. Will they surrender to the passion that burns between them—and risk tearing apart their families? Or will Nico be forced to betray the only woman who sets his blood on fire?