No Place Like You by Emma Douglas is the third book in the Cloud Bay series . You do not have to read the previous books in the series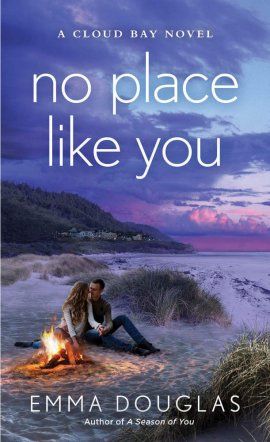 to enjoy this one. Each book in the series focuses on one of the Harper siblings and this book is Zach's.
Zach Harper is back home, in Lansing, thanks to the lead singer of his band. The last thing he wants to do is go back home, but he has amends to make and he needs to figure out his future. It's been six years since he's been home for a long stretch of time and somethings never change, but as Zach finds out, some people do.
Leah Santelli has a history with Zach. She propositioned him ten years ago and he left afterwards. As Leah always says, Zach was born to leave; born to prowl. They both moved on, or so they think. The sexual tension is at all time high with these two and it's quite the distraction. Especially, since Leah needs Zach to let her produce his solo album.
When the other producers turn Zach down, it's up to him to do some serious groveling to get back into Leah's good graces. Not only do they end up working together, but also embark on a no strings affair until he leaves again. They both know the score and understand that he's not staying, but until he leaves, they can have a little fun.
"Dude, you're a rockstar. You're supposed to be a sex god."
Leah and Zach definitely have passion between them, but it's more than that. But what happens when they both get caught up in the romance and their feelings become stronger than anyone could have anticipated?
It's not all about Leah and Zach, though. Zach and his sisters find out their father was keeping a big secret before he died and it's one that will change the family dynamics forever. I'm hoping there is another book after this that will set things right and give the family the truth.
I enjoyed this contemporary romance and believe other readers would love it. Zach is selfish at times, but he follows his heart toward the end and Leah is focused, talented, and blunt. I loved how fearless she was and went after what she wanted. Overall, No Place Like You is a wonderful addition to the series and for those of you who enjoy second chance romances, this is a great pick!
Book Info:

Publication: December 5th 2017 | St. Martin's Press | Cloud Bay #3
Home–in the island village of Cloud Bay–is where the heart is. . .
Leah Santelli always knew that Zach Harper, son of a rock legend and her best friend's brother, was painfully out of reach. Then, on the night of her eighteenth birthday, Leah shocked herself by asking for–and receiving–the gift she wanted: one night of passion with Zach before he left town to pursue his rock star dreams. Now, years later, Zach is back in Cloud Bay to record his first solo album. His return could also be Leah's big chance to step up her own music career. But getting the producing credit she needs means spending long hours with Zach in the recording studio…and falling back into the habit of longing for him, for better or worse.
Zach used to believe that a man must put his past behind him. But coming back home for Cloud Bay's famed music festival has allowed him to finally make amends with his family and, much to his surprise, reunite with Leah. He might have left her once but now it seems he can't stay away. Trouble is, even though the heat between them burns hotter than ever, Leah has old wounds in need of healing before she can give Zach a real chance. Can he find a way to convince her that they can make more than just great music together–and that she's the one that he wants for all time?