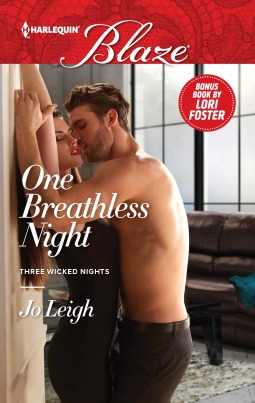 One Breathless Night by Jo Leigh: Everything is planned, everything is perfect, the clock is striking midnight and then you seem them, your fiancé and his almost fiancé sharing the new years kiss. You turn to each other and fireworks.
Jenna Delaney had her life planned out. After a childhood watching her father only give her mother crumbs of affection she knew she was never settling for that. She needed a man who needed her, one who would be around and make sure she knew that she was his world. So what if there wasn't always the passion there could be, she would be safe and know she was loved.
Rick Sinclair wasn't exactly cautious. He was a storm chaser and knew what he was getting into. Yes, he was safe but there was always and element of danger to what he did. His current girlfriend was okay with that though, she was easy and free flowing with everything. So he was going to propose at midnight on New Years, at least that was the plan.
When Rick and Jenna catch their dates with each other all bets are off. Suddenly these two have bonded through a life changing experience. But will that be enough to keep these two together? After all they are so very different and they live across the country. Could it really work?
Ms. Leigh has written one of those novels you just don't want to put down. The storyline is so great in the concept that it is so real and so initially crappy for both of these two but the struggle to make the best out of the scenario as well as making the best of each other is great. Ms. Leigh does a great job of making the plot come to life and the emotions run real. Pick this one up for a good heart tug and a great kick in the pants.

Book Info:

 August 18th 2015 | Harlequin |
Countdown to trouble in 3…2…1…
Jenna Delaney has her life all mapped out—work, fiancé, financial plan. But when the clock strikes midnight on New Year's Eve, Jenna's best-laid plans disappear. Instead, she finds herself lip-locked with the hunkiest of all hot male strangers. And whoa, serious fireworks. The kind that make a girl plan on how to get best laid!
Rick Sinclair is blown away by the sheer force of their chemistry, especially when they end up at his borrowed high-tech "smart" apartment. Except that this apartment seems to know just how to set up a seduction…because suddenly Jenna is in Rick's bed. And this one breathless night could take them anywhere…