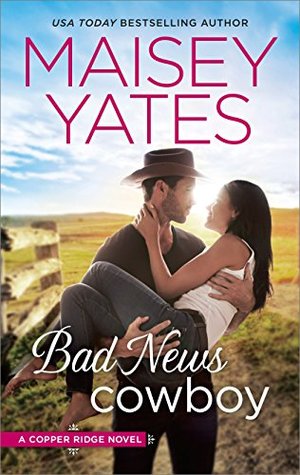 In Bad News Cowboy (Copper Ridge #3) by Maisey Yates, Kate Garrett grew up with a pretty tough family situation. If it wasn't for her big brothers Connor and Eli as her stand-in parents, she wouldn't feel as loved as she does today. Her other savior of sorts has always been Jack Monaghan who is her brothers' best friend since childhood. He's been an honorary member of her family in Copper Ridge, making her laugh and protecting her. But Kate's feelings have evolved over the years and now in her twenties, she's seriously attracted to the former rodeo-pro. Is it worth the risk to step up and admit she wants something physical with him?
"I'm serious," she continued. "I know you. I know exactly what I would be getting myself into."
"If you're propositioning me, Kate Garrett, you had better be sure you know what you want," he said, his patience snapping.
She didn't hesitate. "Kiss me."
Jack may have overcome his bleak childhood, now with a thriving ranch of his own, but he'll forever feel like the outsider in town. Aside from with the Garretts, that is. That's why when Kate, who he's thought of like a little sister for years, acts differently around him, Jack dismisses it as attraction. But if he's honest with himself, he's been noticing how Kate has grown into a capable, beautiful, strong woman in her own right. He doesn't want to damage his friendship with Connor and Eli, but the chemistry Jack shares with Kate won't go away. That leaves him no choice but to see where it takes them.
'In some ways Kate's insides matched his own. Wild, fierce. A bit too bold. A bit too reckless. Just one of the many reasons that the moment attraction had begun to spark between them, there was only one place it could end.'
Bad News Cowboy was a sexy good time where two long time friends become lovers with supposedly no strings attached. We got to watch as the sparks–and their good intentions–flew out the window. Oh, what fun!
Not only was this friends-to-lovers as I stated above, but this was also a brothers' best friend trope. BOTH of Kate's brothers, Connor and Eli, were Jack's best friends since they were kids. So right off the bat you knew things were going to get complicated, messy, and all kinds of interesting with that hanging over Kate and Jack's heads. And even though things played out pretty much how I figured it would in the end, the journey they took to get there was so worth the time reading this romance.
I have to hand it to Maisey Yates. She creates the best, flirtiest dialogue between her characters that is a blast to read. She also has a way of capturing and describing the moments when characters are realizing their feelings for each other with incredible accuracy. It always feels genuine and honest. Neither Jack nor Kate were expecting the level of emotion they would feel once they got together, and I loved watching as each scene built up that tension and longing. The desire was palpable between them and so sinfully good.
I will caution that Jack is about ten years older than Kate, and she is pretty inexperienced in love, so this may make some readers squeamish. But I felt like their feelings for one another had been changing over the years anyway, so this was more of a natural progression in their relationship. What was really wonderful about them being together, for me, was how they were so supportive and almost challenged each other to get beyond their difficult pasts and be the best version of themselves possible. That became more important than their physical attraction in the storyline as the book progressed which I thought added more depth to it.
If you have a thing for sensual, alpha cowboys with a good heart, paired with spunky, seemingly fearless ladies who will put them in their place, Bad News Cowboy is definitely for you.
Book Info:

 August 1st 2015 (first published July 28th 2015) | by HQN Books | Copper Ridge #3
Can the bad boy of Copper Ridge, Oregon, make good—and win the rodeo girl of his dreams?
Kate Garrett keeps life simple—working hard, riding her beloved horses, playing cards with her brothers. Lately, though, she feels a bit restless, especially when family friend Jack Monaghan is around. Sexy and shameless, Jack is the kind of trouble you don't tangle with unless you want your heart broken. Still, Kate could always use his help in learning how to lasso someone a little less high risk…
Jack can't pinpoint the moment the Garrett brothers' little sister suddenly stopped seeming so…little. Now here he is, giving flirting tips to the one woman who needs zero help turning him on. Love's a game he's never wanted to play. But he'll have to hurry up and learn how before the best thing that ever entered his life rides right back out again…