Only for You by Melissa Foster is a sexy and emotional read that will have you swooning for days. The characters are beyond charming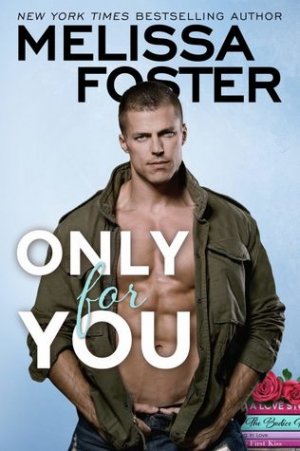 and deal with real obstacles that will have you rooting for them throughout the story.
Bridgette Dalton is a single mother who lost her husband and is doing everything she can to balance work and her son, Louie. She doesn't have time to date and to be honest, she's just not interested. When she meets her new next-door neighbor, she has a change of heart.
Bodhi Booker is Bridgette's temporary neighbor. He's in the military, but at the moment he is fixing up the house for his mother to move into. His next-door neighbor has him tied up in knots and that's unusual for him. Bridgette is clearly special and the more he spends time with her, the longer he can't resist her.
"Beautiful girl. You came out of nowhere, and suddenly you're all I see."
They both decide to live for the here and now, knowing that Bodhi is leaving. Will Bodhi and Bridgette be able to handle just being friends with benefits while keeping their hearts intact?
I loved how much Bridgette loves her son and puts him first…even to the point of giving up the man she's clearly destined to be with. Thankfully, their breakup doesn't last long, and serves to drive home how much they belong together.
Bodhi is the ultimate hero. He's strong, loyal, and completely honest. He knows his work is dangerous and doesn't want Bridgette and Louie to go through tough times that might come along the way if he can't make it back to them. Bridgette and Bodhi's story is passionate, full of feeling, and a must-read!
Only for You is book two in the Sugar Lake series, but can certainly be read as a standalone. Melissa Foster excels at creating romances that will leave you smiling and thoroughly satisfied. Highly recommended.

Book Info:

Publication: December 5th 2017 | Montlake Romance | Sugar Lake #2
Love only works when your heart is in the right place. Hers could be right next door…
Single mom Bridgette Dalton doesn't have time to stop and smell the roses—not even in her own flower shop. But that doesn't mean she hasn't noticed Bodhi Booker. Her ruggedly handsome next-door neighbor would be the perfect candidate for a no-strings fling. Having loved and lost, Bridgette's not ready to hand over her heart…but she could use a distraction.
Bodhi has one rule: never leave anyone behind. As a special operative, he knows that each new mission is more dangerous than the last. He's never made a promise of forever to a woman, not even to the beautiful widow who has him tied in knots. And if there were anyone who could tempt him into putting down roots, it would be Bridgette and her adorable son.
But as his next deployment nears, they make a startling discovery. Their passion, meant only for the here and now, might already be blossoming into something more…