In The Consequence She Cannot Deny by Bella Frances, Coral Dahl is a master behind the camera and she's determined to prove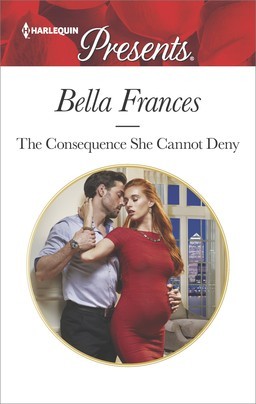 herself with her first major assignment as a photographer. However, keeping her relationship professional with tycoon Raffaele Rossini — the owner of the beautiful private island where the shoot is to happen – might be more difficult than she thought. Yet, soon after giving into temptation, Coral finds her life turned upside down. But when she discovers she's pregnant, will she tell Raffaele, so they have a shot at happy ever after; or will she go at it alone because he broke her trust?
"What's wrong?"
"I'm sorry, but would you mind if I got back to the shoot? I've only got one shot at this and I don't want to blow it."
He put his hand on her jaw again and her eyes widened. "You really are genuine, aren't you? You'd rather hang out at the pantomime than flirt with me."
"Signor Rossini, my future is in photography – not in flirting."
At that he laughed. A proper laugh. The sound of it startled him. "I like you flirting. You have a very promising career in fliring."
What a wonderfully-crafted, emotionally-intense read Ms. Frances has delivered in this story where betrayal stings and can't easily be forgiven; and family drama can lead to hurt feelings and making wrong decisions. The way this story started had me liking the heroine immediately, as she's very determined to prove herself with the amazing opportunity she's been given. Will Raffaele see that she's the right person for the job? However, it was from the moment the hero and heroine came face-to-face for the first time that had me reading quickly, determined to discover how long it would take the hero to win the heroine over, as he's charming and it's palpable that he wants her and isn't going to let her get away without having her. Will the heroine put her career at risk for a night in his bed?
"Let's just say I'm no push-over. It'll take more than a free lunch in paradise and a commission from one of the world's bestselling glossies to make me fall at anyone's feet."
Raffaele's look across the table was straight and true. "If I didn't know better, I'd say that sounds like a challenge."
"Not at all," she said, leaning forward on the table. "I'm here to follow my dream. And I won't let anything get in the way. You can count on that."
Both the main characters make this story an exciting and captivating read because of their back stories and I loved the way the heroine challenges the hero before and after everything goes awry between the pair that has the heroine angry with the hero for what he did. Will she be able to forgive him? Will the hero prove she's more important to him than anything else in his life? Furthermore, I was absolutely charmed by every moment these two conversed, as there's some really good playful banter between them, as the hero does his best to charm the hero while she does her best to resist him. Will Coral be strong enough to keep her distance or will the hero's determination to win her over push her into his arms?
"Do not play games with me, Coral," he said, forcing himself to breathe deeply, to calm down.
Her skin bloomed pink. Her eyes flashed fear and challenge. "You think I'm playing games? I've had more than enough of you and the DI Viscontis' games for one lifetime. So if you think I'm going to dance to your tune, you can think again."
Furthermore, the heroine is strong, brave, very independent and I liked how determined she was to prove her abilities as a photographer. Yet, what I liked most of all about the heroine is how she handles everything she goes through with Raffaele and in learning who her father is. While the hero, he's loyal to the family that raised him after the death of his parents and I could understand why he made the decision he did that had him hurting the heroine the way he did. Is the heroine playing games to get back at the family that raised him? Yet, what I liked most of all about the hero was how hard he worked to win back the heroine's trust, even though Coral doesn't make things easy for him. Then again, why should things be easy after how badly he treats her?
Overall, Ms. Frances has delivered a read that I absolutely loved where the chemistry between this couple was intense; the romance full of heat and passion that shows how right these two are for each other and how much they need each other; and the ending had me cheering for this couple's happy ever after because the heroine was determined to fight for their future. However, it was the epilogue that wrapped this story up perfectly, because of how well the heroine is doing for herself when it comes to her career and then the surprise the heroine has for the hero. I would recommend The Consequence She Cannot Deny by Bella Frances, if you enjoy the enemy to lovers trope; the mysterious strangers trope; or books by authors Jane Porter, Melanie Milburne, Rachael Thomas and Helen Bianchin.
Book Info:

Publication: December 18th, 2017 | Harlequin Presents |
Bedded, banished, pregnant!
Talented photographer Coral Dahl can't afford any distractions on her first major photo shoot. But the beauty of her location, the private Greek island of Hydros, is nothing compared to the lethal charisma of its owner, tycoon Raffaele Rossini! A charisma that wary, innocent Coral is powerless to resist…
Coral is astonished to discover her family is scandalously entwined with Rafa's, and she has a claim on his inheritance. Branded a gold digger, she's dismissed from his bed, and his life. Yet the biggest surprise of all? Their one night of rapture had unexpected, permanent consequences!