Set in the late 1940's, in Palmetto Moon by Kim Boykin, Vada is a society bride to be, set to wed who her wealthy parents want her to. Her fiancee is not a man she can envision a happy future with, and the life he will give her not one she can be content with. On the eve of her wedding, Vada runs off and ends up in Round O, SC to start living the life she wants to live.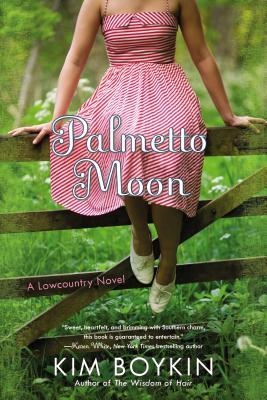 Starting over, with no one knowing who Vada really is is not always easy, but Vada is determined. Things move quickly for her…finding a room in a boarding house with a cranky land lady also means finding a new friend in fellow tenant Claire and her three young sons. A teaching job she's dreamed of is hers, and Frank from the local diner is courting her. Due to health issues Frank wasn't able to follow his dream and leave Round O. He's resigned to being alone and living in Round O running the diner for life. When Vada walks through his door he is smitten, and a light that had gone out is suddenly on again for Frank.
As Frank and Vada spend more time together and the attraction builds between them, there is a lot going on. Vada feels she has found love with Frank, but she still hides her past. Slowly it is creeping back to her though, starting with her search for an old friend Darby. When her secrets are out in the open, Vada will have to decide if she's ready to follow her heart after all.
In Palmetto Moon, Kim give us opposites who really do attract. One of them doesn't know just how opposite they are though, and I couldn't wait to see how they would deal with the truth when it eventually comes out, as truths always do. The growth of the relationship was quick and I liked how Kim really developed the relationship with regard to the era the book is set in. Vada is strong and brave, and an inspiration for women seeking independence in a society not willing to give it to them. For me as a reader, her secrets from a man she was becoming very attached to were a bit frustrating, but I can understand her fears. I felt that Kim addressed the social issues Vada faced clearly and they were well written into the plot. Frank is respectful and completely falling for Vada. I really felt for Frank with his insecurities, and loved how he really came to life in Palmetto Moon. Frank and Vada face daunting obstacles to their relationship, and for the era they come across realistically.
Kim writes well and the imagery of Round O is vivid. There are quite a few secondary characters in Palmetto Moon who only add to the stories believability. I really enjoyed the sub plot involving Claire, and found myself rooting not only for Vada and Frank, but Claire also. The subplot involving Vada's friend Darby does a good job of helping develop Frank and Vada's relationship as well as highlight some of the struggles they might face. Darby's story was quite complex and I was a little disappointed to be left with so many unanswered questions about it since there was so much emphasis on it in Palmetto Moon.
I'd recommend Palmetto Moon to women's fiction readers and romance readers who enjoy books about women empowering themselves and doing what is right for them.
Book Info:

Published August 5th 2014 by Berkley Trade
June, 1947. Charleston is poised to celebrate the biggest wedding in high-society history, the joining of two of the oldest families in the city. Except the bride is nowhere to be found…
Unlike the rest of the debs she grew up with, Vada Hadley doesn't see marrying Justin McLeod as a blessing—she sees it as a life sentence. So when she finds herself one day away from a wedding she doesn't want, she's left with no choice but to run away from the future her parents have so carefully planned for her.
In Round O, South Carolina, Vada finds independence in the unexpected friendships she forms at the boarding house where she stays, and a quiet yet fulfilling courtship with the local diner owner, Frank Darling. For the first time in her life, she finally feels like she's where she's meant to be. But when her dear friend Darby hunts her down, needing help, Vada will have to confront the life she gave up—and decide where her heart truly belongs.