Perilous Trust by Barbara Freethy is book one in a brand-new series, Off The Grid: FBI Trilogy. If you enjoy romantic suspense, you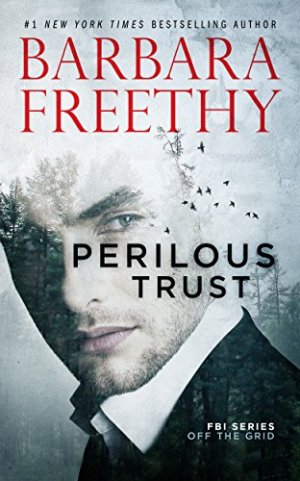 don't want to miss this one! Perilous Trust is high on suspense, to where the action never stops. I was addicted from the very first page and I felt like I couldn't read it fast enough. This author set up the characters, very well and I didn't even know who the bad guys were. I was actually totally wrong about who the bad guy was, but that's okay, I like being proven wrong; it doesn't happen often, though!
Sophie Parker is on the run after her father left her many voicemails on her cell, right before he died. Sophie's father worked for the FBI and she knows she needs to follow the instructions he left, especially the part of not trusting anyone. Although, Damon Wolfe, really isn't anyone. Sophie and Damon embarked on a very hot and unforgettable one-night stand, four years ago.
When Damon realizes that his mentor is dead and Sophie is missing, he immediately tracks her down. As they track down the clues her father left, Damon vows to keep Sophie safe. Going on the run is never easy, but it's even worse when you have a civilian you need to protect; the very one, you can't forget.
"You always have an answer."
He looked up from his phone, his blue eyes unusually dark. "Not always, Sophie."
"What question can't you answer?" she asked daringly, knowing she probably shouldn't, but she couldn't stop herself.
"How we're going to keep our hands off each other tonight."
Damon doesn't believe in love. He saw what love did to his parent's and he doesn't want any part of it. Sophie wears her emotions on her sleeve, but as long as they know the rules up front, no one gets hurt, or do they? With people trying to kill them, secrets that start to unravel, and sweaty nights, staying alive isn't the only thing on their mind.
The action was fast-paced and the romance was actively present, but didn't take over the story. If you enjoy the romantic suspense genre or enjoy second chance romances, I would highly recommend giving this book a read.
Book Info:

Publication: August 1st 2017 | Fog City Publishing, LLC | Off The Grid: FBI Trilogy #1
It was one dark night that brought Damon Wolfe and Sophie Parker together. They were two tortured souls, looking for escape, and they weren't supposed to see each other ever again…
Four years later, Sophie's FBI father, who is also Damon's mentor, is killed in a suspicious car crash after leaving Sophie a cryptic message to trust no one from the agency. When Damon shows up looking for her, she isn't sure if he's friend or enemy, but she knows he could easily rip apart what is left of her heart.
The last thing Damon wants is to get involved with Sophie again. It was hard enough to walk away the first time. But she's in trouble, her father's reputation is under attack, and the lives of his fellow agents are at stake if there's a traitor in their midst.
When someone starts shooting at them, they have no choice but to go on the run and off the grid. Everyone in their world becomes a suspect. They want to uncover the truth, but will it turn out to be the last thing they expect? Proving her father's innocence might just cost them their hearts…and their lives…