In Rebel Doc on her Doorstep (Rebels of Port St Johns #1) by Lucy Ryder , Surgeon Tyler Reese needs time away after an accident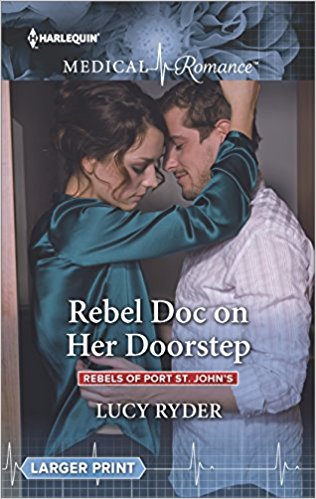 that has left him wondering if he'll ever be able to operate again. So, heading for the Olympic Peninsula — the one place that's always made him happy — seems like the perfect idea, especially since it will give him a chance to reconnect with his father. However, he never imagined he'd find a woman that could make him change how he feels about giving forever after a chance. Will he be able to win Paige Carlyle's heart, or will he return to his old life and hopefully be to able to continue to follow his dreams as a surgeon?
"Of course I called the cops," she snorted, backing towards the door and rising onto tiptoe to peer through the stained-glass inset. "I'm not an idiot. "Besides, you could be a serial killer from the FBI, for all I know."
He found himself staring at her, wondering if he'd face-planted into an alternate universe. "I think you've been watching way too much television."
"I'm a city girl," she replied, reaching out to unlock the door. "We're taught from the cradle to be suspicious of strangers."
What an incredible medical romance Ms. Ryder has penned in this book, which encompasses two wonderful characters that get off to a rough start due to what Paige does to Tyler; witty dialogue that had me loving the heroine's feistiness and how she brings Tyler out of his morose mood because of what happened to him; and the medical dramas that illustrate how well they can handle things under pressure, especially when they work together. The way this story started had me smiling, because of Paige's reaction to the situation she's facing with Tyler. Was it an over-reaction or was she just doing what she thought was right to protect herself?
"Thinking of giving me a concussion?" He gave a hard laugh. "Hate to rain on your parade, babe, but some idiot already beat you to it."
"No," she said, gesturing to his shoulder with a jerk of her chin. "I'm going to reset your shoulder, babe. You dislocated it when you took a header into the floor."
Her tone suggested he was an idiot, which irritated the hell out of him enough that he tersely pointed out, "Which I wouldn't have done if you hadn't tried to split my skull open like a watermelon."
"Which I wouldn't have done if you hadn't broken into my house and scared me to death," she retorted just as shortly, visibly relaxing when they heard a car screeching to a stop outside.
The dialogue was well-written and so entertaining that I read this book in one sitting. Paige is feisty, quirky and provides a definite challenge for Tyler. She's also resilient and brave in how she handles herself when it comes to her work, especially when she does something she's never done before. Then again, she seems like the sort of heroine that would do anything for her patients, even if it means attempting something new with encouragement from someone more experienced. While the hero, he's been through so much with his injury and needing to face the truth of whether he'll recover completely enough to be able to work as a surgeon again. How could someone target him like they did without having absolute certainty that he was the right guy? I also liked how good the heroine is for the hero and how she gets him to face what happened to him and helps him to move forward from it. Just because he might not be able to perform surgery at the moment does not mean he can't still be a good doctor and help others learn from his expertise. Yet, what I liked most about the hero was his charm and how he used it to get a rise out of the heroine. How long will it take for Paige to succumb to the hero's charm?
"Go away, I'm over you."
"Is that why you tried to split my skull open again? Because I have to tell you," he continued when she just growled at him, "for the rest of my life I'll never forget the sight of you standing over me like an avenging faerie commando, ready to whoop my a**."
"I did whoop your a**," she reminded him smartly, secretly pleased with his description. "I wasn't the one knocked on his a** by a girl."
He was silent for a moment. "Yeah," he murmured. "I was, wasn't I?"
Overall, Ms. Ryder has delivered a superb read in this story where the chemistry between this couple was off-the-charts, the romance delightful; and the main characters interactions with the secondary ones had me smiling or laughing at various moments throughout this story, especially any conversation between Tyler and his friend Nate. Do they ever discover the truth of what Paige refers to as a 'BAB'? The way this story ended had me loving the hero even more than I already did, not only because he finally stood up to his mother when it comes to his career, but because of the amusing conversation the hero has with the heroine in hopes of winning her back, even though history repeats itself when they come face-to-face again after everything went awry between them. Why does Paige always feel the need to resort to the tactics she does when Tyler comes to visit? I would recommend Rebel Doc on her Doorstep by Lucy Ryder, if you enjoy medical romances with a good dose of doctors saving patients; the enemy to lovers trope, or books by authors Meredith Webber, Susan Carlisle, Susan Mackay and Annie O'Neil.
Book Info:

Publication: August 1st, 2017 | Harlequin Medical | Rebels of Port St Johns #1
From one night…to forever!
Dr Paige Carlyle knows all about bad alpha boys. So, when one breaks into her home, she's ready to knock him out. But surely he's not supposed to look that hot!
Surgeon Tyler Reese wasn't expecting a warm welcome home, but the cute, fiery pixie in residence is a complete surprise! Unable to avoid each other, soon their uneasy attraction leads to one unforgettable night. Tyler wasn't staying forever, but now he might not be able to walk away…