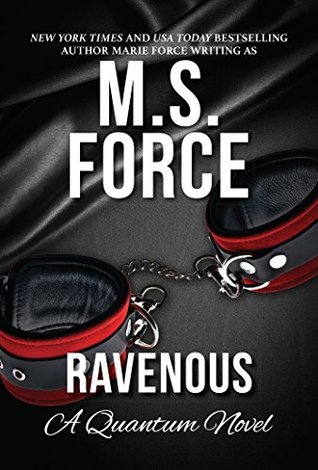 In Ravenous (Quantum #5) by M.S. Force, Thirty-six-year-old Ellie Godfrey knows it's pretty much now or never to have a baby or her chance will soon be gone. She's decided to use an anonymous donor after giving up on finding Mr. Right and hopes to find a guy after she's pregnant who will be okay with the situation. But a confession about her plans to longtime friend and secret crush, Jasper Autry, turns into the opportunity to have her baby the old-fashioned way. With. Jasper. Given Ellie's feelings for him, she knows it's a bad, bad idea. But how can she refuse the offer of a lifetime? Especially if there might be the teeny tiniest possibility that it could turn into more.
Have I gone blind, deaf and dumb, or is Jasper Autry telling me he wants to have sex with me–and make a baby with me? "Are you for real right now?"
"My darling Ellie, I have never been more 'for real' in my entire life than I'm being right now." He leans in closer to me, so close I stop breathing. "Say yes."
Jasper has become quite good at keeping secrets over the years. From the truth about his family's past to his fascination with Ellie, there's a lot that his colleagues don't know about him. And his initial shock over Ellie's determination to have a baby on her own gives him the perfect opportunity to get his hands on the beautiful woman without getting emotionally involved. But Jasper was kidding himself when he thought he could give Ellie up, as well as any child they might create, after getting to know everything about her. Absolutely smitten and with an uncertain future ahead of him, he'll have to figure out if he's willing to risk everything for a chance with the woman he loves.
"I love you desperately, Ellie. I suspect that I have for quite some time, long before I knew what it was like to hold you and kiss you and make love to you. And now that I've held you in my arms, I can't imagine a time that I'll ever want anything other than more of you."
Just when you thought the Quantum series couldn't get any hotter, M.S. (Marie) Force paired up a sexy British cinematographer and the quintessential California girl, who also happened to be his close friend's sister. With a set-up like that, you just know it's going to be a complicated and oh so sinful romance.
"We're going to fight for this, Jasper. We're going to fight with everything we have. I've waited my whole life for you. I'm not letting you go."
Force has been on-point with this Quantum series and I swear each book truly does get steamier and sexier. This friends-to-lovers story had a punch of sweetness to it as well. There was something heartening about watching longtime friends Jasper and Ellie finally admit they had feelings for each other and do something about it. But the way that it all happened was where the fun twist came in, with it taking Ellie's confession that she longed to have a baby and Jasper offering his, ahem, services to get things started. So they kind of did things backward, planning on having a child together first and then dating. But it worked for them and it made for one entertaining story, so who's to complain, right?
To really put Jasper in perspective, picture a proper, sophisticated Brit with a yummy accent hiding a dominant bad boy underneath his bespoke suits. Yep. *fans face* I really loved that he had hidden his attraction to Ellie so well that no one around him (for the most part) knew his true feelings. And that wasn't all that he was hiding. Jasper was keeping his BDSM lifestyle hidden of course, like the rest of the Quantum founders, but he also hadn't told anyone about his family history back in England. That was a shocker, when all was revealed about his past and his unwanted future, but it was nice that Ellie didn't freak out too badly and was able to support Jasper when he needed it most.
Ellie was Jasper's match in every way. She was smart as a whip and a huge part of the Quantum team, earning her job on her own merits instead of being handed the position because she was Flynn's older sister. I loved how serious she was about the work they did. And I understood why Ellie was in awe of Jasper. He was a super talented cinematographer but it was his charming ways that really did her in. Well, that and his British accent. I mean, a guy that called her 'dahling' and was more than confident in the bedroom? *sigh* But I think I loved most that Ellie knew herself and made up her mind to go after her dream of having a baby, whether it was on her own or with a partner. She chose to live the life she wanted and that was something she was able to help Jasper realize in his life as well.
Ravenous, indeed. These two characters were absolutely perfect for each other and had a palpable connection that made my Kindle sizzle. And with the stage set for at least two more love matches in the Quantum group–I can't imagine how–but I have a feeling the future is going to get even more provocative!
Book Info:

 Expected publication: August 23rd 2016 | by HTJB, Inc. | Quantum #5
She wants a baby. He wants her. Simple enough, right?
Ellie Godfrey has kissed her share of frogs. So many, in fact, that she fears she won't recognize her prince if and when he finally comes along. Tired of waiting for THE ONE, Ellie decides to have a baby on her own before it's too late.
When Jasper Autry hears about Ellie's plan, what else can he do but step in and offer to "contribute" to her project. Does that make him an opportunist? Whatever. He wants the perpetually out-of-reach Ellie Godfrey, and when he sees his chance, he takes it. That she's the sister of his business partner and close friend Flynn gives him pause, but it doesn't stop him from having what he wants.
As Jasper and Ellie embark upon their secret "project," he makes it clear that for as long as they're together, he's in charge—in the bedroom anyway. After the hottest sex of her life, Ellie realizes she's made a deal with the devil himself.
82,000 words
Warning: If you hate foul-mouthed heroes who like it a little rough and dirty, this might not be the book for you…Contains hot and sexy BDSM scenes among other things that might not appeal to the faint of heart. Enter at your own risk and enjoy!