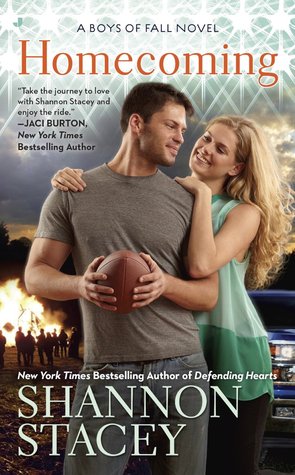 Homecoming by Shannon Stacey: Jen is a dedicated school guidance counselor. She treats the kids at the middle and high school as her charges and her door is always open to them. She's determined to make a difference in their lives and make sure no one falls through the cracks, especially since their small town has been going through some rough times.
Sam wasn't sure if he would ever come back to Stewart Mills. He didn't have a good childhood, so he left after high school and never came back until he was asked to help save the high school football program. He had no plans to come back, until once again his coach and mentor requested a favor.
While Sam is looking forward to spending more time with his best friends, he's understandably nervous about filling in as the interim football coach. Everyone in town is excited to have him back temporarily, except for Jen. They had one steamy encounter before he took off without a word. Now she'll have to work with him as she keeps a close eye on all of the football players.
"Are you going to get out on the dance floor and bust some moves?"
"God no." He took a step closer to her, so she had to look up to see his face. "I want to dance with you."
Her lips parted slightly and then she gave him a saucy smile. "I'll have to check my dance card. It might be full."
He still has to deal with the scars of his past and the expectations of his return. Jen is the one person he turns to for comfort, a sense of peace, or to brighten his day. By working together, they get to know each other and form a friendship. They can't escape the gossip that come with living in a small town, especially when they are so obviously drawn to each other. And their friendship turns to more as neither can forget that amazing encounter from months ago.
His chuckle surprised her. "You're cute when you want to slay my dragons."
"Did that show on my face?" He nodded. Of course it did. "Cute, though? Not fierce?"
"More like fiercely cute."
Homecoming is an entertaining read that makes you long for fall and football season. Shannon Stacey combines family, friendship, and second chances into a fun and sexy package. Ms. Stacey created great characters that were fun to follow along throughout this series. Homecoming can be read as a standalone in the Boys of Fall series. Fans of Jaci Burton and Jennifer Probst will enjoy Homecoming.
Book Info:

Expected publication: August 30th 2016 | Jove | Boys of Fall #3
The New York Times bestselling author of Defending Hearts returns to small-town New Hampshire where a substitute football coach and a guidance counselor tackle love.
They were the golden boys of fall: Stewart Mills High School's legendary championship football team. Fourteen years later, they're back to relive their glory, save the team—and find themselves again . . .
Sam Leavitt has two goals when he returns home to Stewart Mills to fill in for Coach McDonnell: to keep the school from finding a permanent replacement while Coach gets back on his feet, and to reconnect with his mother. As substitute coach for the high school football team, Sam must work hard to keep the boys on track, and that means spending time with the sexy guidance counselor he shared a hot night with months ago.
Jen Cooper knows what she's looking for, and it's not Sam—he wasn't even supposed to come back. She wants a cultured, romantic soul, not some rough-around-the-edges guy with calloused hands—and a hard, muscular body. But seeing him every day forces Jen to question what she really wants out of life. And as Sam begins to deal with his past, Jen discovers there's more to him than she imagined.