In Raw (Torn Between Two Lovers #1) by Jo Davis, Anna is living her dream. She has worked hard and now is the owner of a prestigious restaurant. All is going well on the business front, but Anna is lonely. She has been so busy focusing on business that she's neglected her personal life.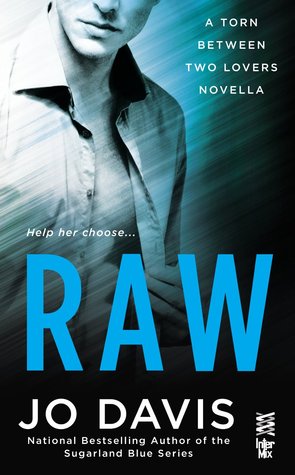 Things are about to get much, much hotter for Anna though when she finds herself very attracted to Gray, the new prep cook at her restaurant. Gray is just as attracted to Anna…and for more than one reason. Unknown to Anna, Gray is not at all who he appears to be. Gray is an FBI agent working undercover on a drug ring operation that seems to involve people working in Anna's restaurant. Gray does not expect to fall for Anna, and he is not comfortable leading a double life. Gray is trying to do the right thing, working for what he believes in, but his deception can't last forever.
Anna and Gray really work well together, they have a lot of fun, and the sex is amazing! Anna finds herself falling deeper and deeper for Gray…will she be able to handle the truth or will it drive her away from Gray's arms and into someone elses?
I loved both of these people for most of the novella. Gray is a stand up for what's right kind of guy, protective, caring, and definitely all male! He doesn't like not being completely honest with Anna, but he is hopeful that the positives can out weigh the negatives when she finds out. Anna is a hard working, independent woman who up until she gets together with Gray has been pretty single minded in her focus on life. Gray helps her see that there is a lot more to life than work. Can Anna handle the truth though? Or do actions speak louder than words? Her reaction to the unexpected turn of events between her and Gray was not how I envisioned a woman in love acting…
This is the first in a three part series of novella's, so I was expecting a cliffhanger and was not disappointed. However, I do feel that the novella ends well and that Jo has started the Torn Between Two Lovers series with a bang, setting us up well for Risky, book #2.
I don't want to give too much away, but with Raw by Jo Davis you are in for a sexy adventure with Anna and Gray!
Recommended for any romance reader looking for some passion, mystery, and secrets
Book Info:

Published October 15th 2013 by Penguin InterMix | Series: Torn Between Two Lovers #1
TORN BETWEEN TWO LOVERS is a gripping and sexy romance trilogy with a unique twist: Our heroine needs your help to decide who wins her heart… RAW introduces this sizzling new series, in which two enticing men will vie for Anna's heart—culminating in a choice that will be determined by reader vote!
Anna Claire is a prominent restaurateur, the toast of New York. She's not one to let down her guard, but her new prep chef is gorgeous enough to cause her to break her own rules, and soon she's tearing up the sheets with Grayson James. More than that, she's falling in love.
Until she discovers that Grayson is no chef. He's an FBI agent investigating a drug ring he suspects is using her restaurant. Anna is shattered to learn she was just part of his cover.
The case means everything to Gray, right until the moment he loses what matters the most—not his intended target, but Anna. Gray is devastated when the woman he loves learns of his betrayal. Especially with his greatest enemy all too eager to take advantage of her…
So, will you join #TeamGrayson or #TeamJoaquin? Make the informed choice: Don't miss RISKY, available in November 2013.