Against The Ropes by Sarah Castille: I was struggling to decide if I would give this 3 stars or 5 stars. There are parts of this book that I didn't really like (the characters kind of drove me nuts – and not in the good way). But there are other parts of the book that were totally awesome! I mean, it's really unique because it combines two genres (1: MMA fighting and 2: kinky billionaire) and blends them together in surprising and enjoyable way.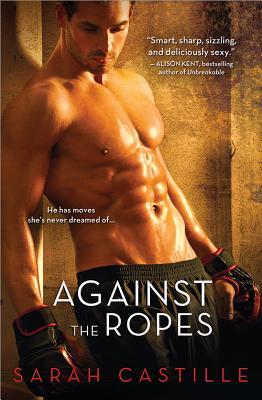 Makayla is the heroine in this novel and for the most part, I liked her. She works in the Admissions department of a hospital and is trying to figure out what she wants to do with her life, such as continue on with medical school to become a doctor or just go to EMT/Paramedic school. But right now, she's drowning in debt and trying to make ends meet. To make a little extra cash, she agrees to help her best friend by selling tickets at the door of an underground MMA fighting club. And that's where things get interesting. First, though, I really identified with Makayla because she's pretty broke and I've definitely been there! Man, does that suck! She's also a healer and she cares about people. There really isn't anything to DISlike about her. She's not perfect though. She's pre-med and sorta kinda an EMT but she gets sick at the sight of blood and can't handle violence? I understand that it links back to the trauma in her childhood but maybe this was not such a great career choice for her?? Then there was the debt collector issue. I won't get into all the crazy details but it seemed like the debt collector was stalking her but then he wasn't and it devolved into a whole different plot line. I didn't understand it and it especially made no sense to me when it clearly illustrated what an idiot Makayla was about not letting people help her. "Oh my mom did it all by herself and that's how I want to do it." Ugh, save me from martyrs.
Torment/Max was pretty hot. It could be argued that he's a carbon copy of a lot of other billionaire, alpha males but I still liked him. I've only read one other MMA story and I liked it. I liked it here again too. I guess I just don't know a lot about MMA so its fun for me to read about it. Plus, I love to imagine how sexy the men are!!! So Torment is sexy as hell and rich to boot. But his wealth isn't revealed until later in the book so it was cool to find that out later. Torment is an alpha male, for sure, but he was also slightly into some light BDSM. Nothing major, just a little tying up, a little spanking here and there. I like BDSM stories but sometimes, Torment's BDSM activities with Makayla pissed me off. I can't say for sure why though. I think I felt like Makayla didn't fully give her consent since she didn't really know what was coming. It was hot too though so I found myself kind of at odds over it. What I wasn't confused about what how much I loved Torment's badasssery! He's a force to be reckoned with in and out of the ring! I loved his fight scenes and I'm ashamed to admit that I really enjoyed the scenes where Torment went head-to-head with anyone messing around with Makayla!
The Sexy Time scenes were awesome! Torment and Makayla have great chemistry. I'm not sure they're such a great match though with Torment's love of fighting and Makayla aversion to violence and blood. The fight scenes were pretty great and, believe it or not, not too gruesome! LOL! The secondary characters were a lot of fun. I had several laugh out loud moments when Makayla was interacting with some of the guys from the gym. So other than Makayla's tendency toward monumental stupidity and immaturity, I enjoyed all of the characters. As I said earlier, this is a blending of two genres and I found it to be absolutely original. I went in thinking I was going to get a hot and steamy MMA story and then it started morphing into a BDSM billionaire tale. For me, it was having the best of both worlds because I felt like both sides of the story were well done.
Overall, I think I would recommend this book. The characters had some serious flaws, especially the heroine. But I loved the story and how surprised I was by it. Yes, I realize that I've ruined that surprise for you but there are other fun things about the story too. Much of it was funny and had me laughing a lot. The Sexy Time was fairly plentiful and well written. The story goes places that you might not think its going so there may be some surprises in store for you! This book would be for anyone who likes a tough alpha male and a heroine who is just discovering the joys of a kinkier lifestyle!
Book Info:

Publication: September 3rd 2013 by Sourcebooks Casablanca
He scared me. He thrilled me. And after one touch, all I could think about was getting more…
Makayla never thought she'd set foot in an underground mixed-martial arts club. But if anyone needs a medic on hand, it's these guys. Trouble is, at her first sight of the club's owner she's the one feeling breathless.
All sleek muscle and restrained power, the man they call Torment plays to win at any cost. Whether it's in the ring or in the bedroom, he knows exactly when to use a soft touch and when to launch a full-on assault. He always knows just how far he can push. And he's about to tempt Makayla in ways she never imagined…