In Secrets in Summer by Nancy Thayer, After years of being moved from one family member's house to another, the island of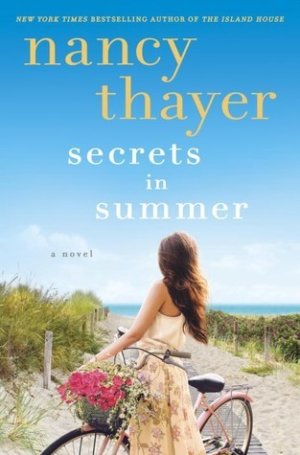 Nantucket became a real home for Darcy Cotterill when her grandmother took her in. Before then, books and whatever library she could find was what soothed her soul. Her ex-husband Boyz might not have understood her love for the written word, but becoming a librarian when she returned to Nantucket after her divorce was a lifelong dream being fulfilled for Darcy. And living in her childhood home since her beloved grandmother's passing has been a way to remain close to the memories of the woman who meant everything to her.
'If she'd ever had any kind of true home, it was a library.'
Living on Nantucket year round means that Darcy sees the differences each season creates on the island. While she loves the cookouts, swimming, and gardening the summer brings, it also brings with it a surge in tourists. Her summertime neighbors undoubtedly will add drama, which she tries to steer clear of. Darcy has enough to keep her occupied, with her new relationship with local guy Nash. But as she realizes that her ex-husband, his wife and stepdaughter are now staying next door and she also finds herself taking an interest in new neighbor Clive, Darcy gets tangled up in one too many issues for her liking. Her once simple existence on a beautiful island soon has her reevaluating her life and learning quite a lot about herself.
'Why did love happen like that, so fast, at first sight, so powerful it came as a recognition: This person is mine.'
As the title suggests, Secrets in Summer was all about those hidden tidbits of information people keep hidden. Or try to, at least. But being that this was set on an island, author Nancy Thayer was able to show us how complicated those secrets could make life for locals and summertime vacationers alike in such close quarters.
As I read this entertaining novel there were two things that stood out to me. One was that it was basically an ode to Nantucket. (And rightly so!) The beauty of the island, how the way of life for the locals differed than for those who lived on the mainland. How drastically things changed during the rush of summer. And second was how intimately we got to know our main character Darcy. This was a look into her past and at her continuing journey to find some permanence in her life. We got to see how learning of her neighbors' secrets threw her into the mix and caused Darcy to have to figure out how far into each situation she was willing to get involved.
Watching Darcy grow over the years was probably my favorite part. Aside from the scenes where she and a few of the ladies in the neighborhood got together and had a few drinks–and some comical conversations. I thought Darcy really came into her own as the summer wore on and that she went from being pushed around rather easily by her ex-husband Boyz to realizing that she was worthy of true love and something real. There was a little bit of a love triangle that happened between Darcy, her new boyfriend Nash, and her summer neighbor Clive. (And as scandals unfolded in the neighborhood there was another love triangle I'll leave for you to discover!) But it was Darcy's personal journey that held my attention as she was sorting through her feelings and helping her summer friends through their own issues. It was a tangled up mess at times, but the problems she and her friends faced were real and things that many of us deal with in our own lives.
Secrets in Summer is the quintessential beach book. Nantucket proved to be the perfect, and perfectly gorgeous, setting for this slightly soap opera-ish story filled to the brim with honest emotions and personal growth.

Book Info:

Publication: Published May 16th 2017 | Ballantine Books |
The queen of beach books (The Star-Ledger) returns to the shores of Nantucket in a novel about one memorable summer when flirtations flourish, family dramas play out, and scandalous secrets surface.
Memorial Day weekend means that seasonal visitors have descended on the glamorous island of Nantucket. For year-round resident Darcy Cotterill, it means late-night stargazing in the backyard of the beautiful house she grew up in and inherited from her beloved grandmother. It s also Darcy s chance to hit the beach and meet her new summertime neighbors. But the last person the thirty-year-old librarian expects to see staying next door is her ex-husband, Boyz, along with his wife, Autumn, and stepdaughter, Willow.
Darcy must also navigate the highs and lows of a new romantic relationship with local carpenter Nash Forester even as she becomes smitten with handsome vacationer Clive Rush, a musicologist in town to write a book and visit family. And she finds herself pulled into the concerns of Boyz, Autumn, a charming elderly neighbor, and an at-risk teen.
As the season nears its end, Darcy must decide her next move: retreating to the comforts of her steady and secure island life, or risking it all for a chance at true happiness.
Praise for Nancy Thayer
The Island House
A touching story about friendship, family, and the uncertainty of love. Bustle
Quick-paced, thoroughly engaging, and heartwarming. The Insatiable Reader
The Guest Cottage
A sweet book with romance, laughter, and love after loss . . . Thayer knows her Nantucket history, and it shines in this book. RT Book Reviews
It s a pleasant escape to a state of mind in which rebuilding a life is as simple as pitching an umbrella and spreading out a towel. Kirkus Reviews
Nantucket Sisters
Thayer obviously knows her Nantucket, and the strong sense of place makes this the perfect escapist book for the summer, particularly for fans of Elin Hilderbrand. Booklist
Thayer keeps readers on the edge of their seats with her dramatic story spanning the girls childhood to adulthood. This wonderful beach read packs a punch. Library Journal"