Playing Dirty by Taryn Leigh Taylor: Hockey is life. It is the beginning and the end for some players, until it isn't. Then what?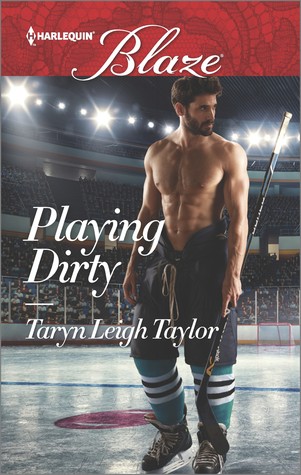 Elaine, Lainey, Harper had her most humiliating moment in front of so many people. She wasn't sure she would ever survive. So she did what she could and got out of dodge, never thinking to return. That is until she had to. Now she was focused on getting done what she needed to do before she could run away again. Only now there were draws, people and things that made her feel like home, could she do it? Could she have a place to call home?
Cooper Mead wanted one thing, a championship. He didn't want to think about ending his career or what he was going to do. He hadn't planned, hadn't seen a future, but now he knew he wanted this cup. Nothing was going to get in his way.
When a dare becomes more than a dare and a one-night stand becomes more will the results be life changing? Or will the ice melt into puddles?
Loved the trip back to the Storm. Ms. Taylor has returned the readers to a Hockey team on the brink, though she doesn't delve back into the team as much as I would have hoped. This is a great read with characters that are well developed and have some meat on them. The story is engaging, hot and worth every moment you spend with it. This is one you aren't going to want to miss. Now the question is, will there be more?

Book Info:

Publication: April 18th 2017 | Harlequin Blaze |
A game they both want to win
Lainey Harper has never been a puck bunny. She wants nothing to do with hockey or hockey players–not after what she's been through. So why can't she resist Cooper Mead?
Portland's newest hockey star, Cooper, is all muscle and charisma. And he's Lainey's worst nightmare. Hooking up with him would bring back memories that Lainey needs to keep buried. And risk the hard-earned anonymity she's sacrificed everything to protect.
When Lainey finally gives in to Cooper's sexy charm, the chemistry's intense–but so is the media exposure. And now Lainey's got even more to lose than her secret–she's got Cooper.