Lethal Lies by Rebecca Zanetti is the second book in the Blood Brothers series. Heath Jones is one of three "brothers" united by a blood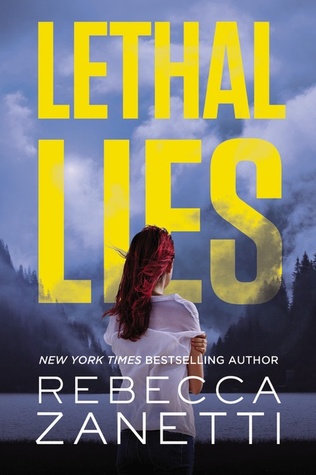 oath who were created in test tubes to become super soldiers with advanced features, such as incredible hearing. Now he and his brothers are on the run until they can develop a plan to confront Doctor Madison, their creator, and Sheriff Cobb, the man who tortured them when they were children.
Criminal psychologist and profiler Anya Best is the target of a serial killer known as the Copper Killer because he targets women with copper hair. When her sister becomes the killer's latest victim and it's clear she's always been his main target, Anya challenges him on the news, while calling out Heath, who had known her sister, as her fiancé even though he wasn't. Now Heath and his brothers are not only exposed to the Copper Killer, but they're back on Madison and Cobb's radar.
Despite Anya's suspicions about the brothers, she has no choice but to put her trust in them. Her sister was the only person she had left in her life, and her death left her all alone. The brothers, weary of bringing an outsider into their fold, know they have no choice because Heath feels he owes it to Anya's sister, Loretta, since he wasn't able to save her. The brothers always stick together and support each other, no matter what danger it might bring to their door. I admired the level of loyalty and respect they had for one another, considering they weren't actually biological brothers.
This is the second book in the series. I would recommend reading the first book, Deadly Silence, before this one. I did not read it, and I felt like I was missing some of the background of the brothers. It wasn't enough to take away from my enjoyment of the story, but it did make me more curious about Ryker and Denver. The next book will be Denver's story, and I'm definitely looking forward to it.
Lethal Lies is a thrilling, action-packed suspense that will draw readers in from the first page. Readers of romantic suspense and fans of Rebecca Zanetti shouldn't miss this one.

Book Info:

Publication: May 16, 2017 | Forever | Blood Brothers #2
Revenge. It's the only thing that will help Anya Best sleep at night. The serial killer who murdered her sister is on the loose, and Anya will stop at nothing to put him behind bars-even use herself as bait to lure him out of hiding. But she can't do this alone.
Private investigator Heath Jones's job is to bring bastards to justice. This time it's personal. He knew the Copper Killer's latest victim so when her sister asks for his help, he's all in. But when Anya uses the media to taunt the killer, she exposes Heath's identity, putting them both in jeopardy. Now, secrets buried long ago are coming to light and the forces determined to destroy him are watching Heath's every move, waiting to exact their own revenge. And they'll use anything and anyone to get to Heath.