In Sheer Mischief by Jill Mansell, Florist Janey Sinclair has spent most of her life in the shadows of her younger, much more glamorous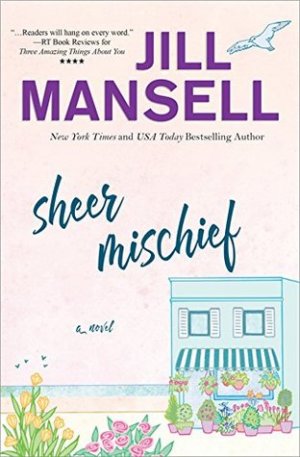 sister Maxine. And honestly, she's okay with that. Usually. She's happy owning her little flower shop in lovely Trezale, a touristy town in Cornwall. Okay, her personal life has seen better days, but she'll eventually get to the point where she wants to start dating again. Someday. But Janey's life gets thrown in an uproar when Maxine arrives on her doorstep in a very dramatic way–as one would expect from Maxine–and suddenly her social life is back in full swing. So what if it's mostly trying to keep her sister out of trouble? At least it's getting her out of the house a bit.
"At this rate my social life looks set to have all the sparkle of a squashed snail."
"Welcome to the real world," said Janey shortly. Her own social life had been practically nonexistent for the past eighteen months.
Maxine cast her an impatient glance. "Yes, but it's all right for you," she replied with characteristic lack of tact. "You're used to it."
Uber popular photographer Guy Cassidy is still relatively new to Trezale compared to the locals who have lived here their whole lives it seems. On the hunt for a new nanny for his son and daughter, Josh and Ella, he knows hiring beautiful, mischievous Maxine is asking for trouble. And not for the reason most people would think. Guy is still admittedly sowing his wild oats after losing the love of his life a couple of years ago and isn't quite ready to settle down again yet. But even he has to admit that having Maxine, Janey, and the rest of the townsfolk in his life has been nothing if not entertaining. And Guy can definitely start to see himself and his beloved children making a true, happy home for themselves in the cozy little seaside town.
With an extravagant sigh, he concluded, "All in all, you're one difficult lady to fall in love with, Janey Sinclair, and I think you should apologize for all the trouble you've caused."
Sheer Mischief definitely lived up to its name. A raucous standalone reissue from 1994, Jill Mansell's charming cast of characters kept me in stitches with their outrageous antics.
'That was the trouble with nice girls, he thought ruefully. They had a conscience. Sometimes it was bloody infuriating.'
It really did seem like everyone in Mansell's ensemble cast was up to nothing but mischief. And I kinda loved every second of it. Although I have a feeling that readers who avoid stories with cheating in it might not enjoy this book so much, considering there were a few characters who had no qualms about their philandering ways. I think that's why it didn't bother me as much as some other books have. Maxine, Guy, and Bruno were open and honest about not being monogamous and for the most part, everyone around them knew the score. It didn't mean that I didn't get huffy on some of their conquests' behalves. 'Cause I did. And I was definitely waiting for them to get their comeuppance in some way–I wasn't disappointed.
So the main focus was on Janey, her flighty sister Maxine, and superstar photographer Guy. Maxine was the one out of the three who made me roll my eyes the most with her selfishness, but even she had moments where she proved she was a good sister after all, looking out for Janey's best interests. Now Janey…I really did adore her right from the get go. She'd had a major shakeup in her personal life about two years prior and was still sort of fumbling about. Having Maxine show up on her doorstep brought more chaos to Janey's life but I think in some ways it helped bring her out of her shell a bit more. Even getting her back in the dating game. Guy on the other hand had no issues with finding a date. It was locating a new nanny for his awesome son and daughter, and eventually finding himself a woman to settle down with, that created havoc in his life. Watching these three become friends, frenemies (and possibly more) was a hoot. Especially with the rest of the locals in Trezale joining in on the mayhem.
You're pretty much guaranteed a good time when you pick up any of Jill Mansell's books. But the soap operaish feel of this 90s reissue cranked it up a notch or two more, making it a true page-turner.

Book Info:

Publication: Published January 2nd 2018 (first published 1994) | Sourcebooks Landmark |
It's not that Janey Sinclair isn't happy to see her sister—she just wishes that she could have arrived in a less dramatic fashion. Waking up at seven a.m. to Maxine waiting at the door wearing a borrowed wedding dress and with a police escort wasn't how Janey planned to start her Sunday.
Still, life's never dull when Maxine's around, and Janey, who's rebuilding her life, is delighted that her sister's back in town. So when Maxine sets her sights on glamorous fashion photographer Guy Cassidy, Janey knows there's no limit to the mischief her sister will make in order to dispatch the competition. Little do they know that the competition is a lot closer to home than they think…