Falling for Mr. Wright by Robyn Neeley: Although Ryan's heartbreak happened nearly a decade ago when his fiancé left him two weeks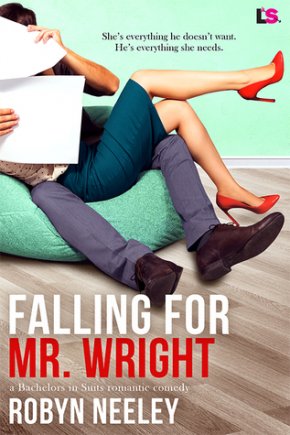 before the wedding, Ryan refuses to ever enter a relationship again. Except then he meets Sarah, the office's executive assistant and his office lunch buddy, and she's the first woman to fully tempt him.
But Sarah wants Logan, his boss and best friend, and she brings in Ryan to help her woo Logan. Ryan only goes along because he thinks Sarah will notice him beyond the office buddy role. He can't offer her forever, even if he sometimes wants to, but he can at least give her passion.
Sarah wants forever and her boss Logan strikes her as that kind of guy, even though it's her friend Ryan who really attracts her attention. And when she goes with him to his class reunion, and they kiss for the first time, Sarah is shaken by the strength of her attraction – and for the first time she isn't so sure Logan is the man for her.
This story does hold a bit of bad behavior – on a date with one guy only to leave with another – that I don't particularly appreciate, however the passion and love between Ryan and Sarah was apparent and powerful.
I really liked both Ryan and Sarah. She was bright, bubbly, and positive. Overall, just enjoyable. Ryan had a bit more angst, but I liked him all the same. Their worst character traits came out in their inability to communicate and just let their feelings be known. Now that led to a lot of annoyance on my part because that was the main conflict towards the end.
For those who love a friends to lovers romance, I highly recommend Falling for Mr. Wright. There's a bit of silly plotting, but it's mostly the strong connection between Sarah and Ryan.

Book Info:

Publication: December 4, 2017 | Entangled Lovestruck | Bachelor in Suits #1
After being dumped two weeks before his wedding, civil engineer Ryan Wright's not interested in love. Been there, done that, had the wedding deposits to prove it. Still, he can't help lusting after the fiery redheaded executive assistant who's stirring up feelings that aren't exactly appropriate for the office.
Sarah Leonard is determined to make the CEO fall in love with her. To execute her plan, she's going to need a little help in the form of her lunch buddy, the 6'2" office hottie who just so happens to be their boss's best friend. Who better to tell Sarah everything she needs to know to win the other man's heart?
Ryan agrees to help Sarah put her plan in motion, but he has no intention of helping her win anything. In fact, it's time to show his office crush that he's the guy she should be falling for…