In Sit…Stay…Beg (The Dogfather #1) by Roxanne St. Claire, Garrett Kilcannon's decision to give up his tech career in Seattle and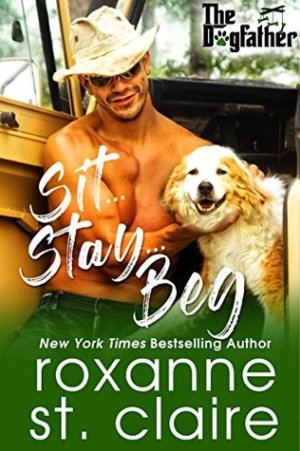 return home to Waterford Farm to oversee his family's rescue and dog training business came at a time when he needed to put his past behind him. And after the ensuing media firestorm, his trust in journalists is minimal at best. But moving back to North Carolina suits Garrett just fine and he loves his job helping dogs find their forever homes. His latest rescue, Lola, isn't doing well, though, and doesn't connect with anyone until journalist Jessie Curtis, once a fixture in the Kilcannon household, reappears. Against his better judgement, Garrett gets talked into an interview and in return Jessie will help him with Lola. But with his desire for Jessie out of control, he has no idea how he's going to keep his secrets hidden or keep from falling in love.
He handed her one of his endless supply of squeaky toys, which she realized came from a pouch hanging from his waist. "Here you go."
"You know, I never thought I'd be having romantic fantasies about a man who wears squeaky toys on his belt."
He winked at her. "You should see what I keep in my nightstand drawer."
The Kilcannon family meant everything to Jessie as a kid. Her best friend Molly and all of the Kilcannon siblings welcomed Jessie to their farm, which became her safe haven, right up until she had to suddenly move away. So going back to Waterford after seventeen years is bittersweet to say the least. And especially considering that Jessie needs to get very sexy, but very private Garrett to agree to an interview to secure her career. Something he's never agreed to do with any reporter in the past. She's instantly drawn to him and can see that although he's still the same down to earth, giving guy she remembers, Jessie knows Garrett is hurting. She knows things are going to get mighty complicated between them. But saving Garrett and beautiful Lola by helping them heal might just do the same for her weary heart.
"It was like Camelot to me," she whispered. "All that love. All that connection. All that family and fun and so many number ones, a person could never be lost. Neither could a dog," she added with a laugh. "Strays are welcome at Waterford, and…I was."
You can't go wrong with a romance written by Roxanne St. Claire. But Sit…Stay…Beg was an extra special combination of emotional family drama, a perfect love match, and a compassionate story about the people who rescue dogs in need of help. Although I think that, as is probably the case most of the time, it was the dogs that did the saving.
'She had to write the story of a man who lived to help, who longed to protect, who loved to save anyone or anything that needed saving.'
First of all I have to point out that lovely book cover. Although the hunky shirtless guy isn't too shabby (LOL) what caught my attention was the gorgeous dog beside him. It turns out that the happy dog featured was a rescue from the Alaqua Animal Rescue in Florida and Rocki is graciously giving part of the proceeds for the first month sales to the rescue. How wonderful, right?
As an animal lover myself, this book touched my heart. Especially as we learned more about our hero Garrett. He was an absolutely lovely man who had such a kind, giving nature–with both dogs and people–that I don't think readers will be able to stop themselves from falling for him. Actually, I kind of fell for the *whole* Kilcannon family. But I think Garrett's story was a great way to introduce us to the dynamics at Waterford Farm. Aside from his wonderful father Daniel, aka the Dogfather, who had his own struggles here, Garrett was really the backbone of the family business.
I loved that Garrett was so tender with, and concerned for, sweet rescue doggie Lola. His scenes trying to get her to eat or go for a walk broke my heart. But that all changed with Jessie's arrival on the farm. I really think Rocki perfectly captured the bond that grew between Lola and Jessie, that connection they formed as they grew to trust each other. And the same could be said about how Garrett and Jessie's relationship evolved from him not trusting her as she was part of the media, to realizing just what they could have together personally.
I think Jessie was in need of some rescuing herself. And I don't mean that she was a damsel in distress. I think she needed someone to truly embrace her and make her number one in their lives. And Garrett was just the guy to do so. Jessie had a pretty tough time growing up but I loved that through her friendship with Molly, Garrett's younger sister, Waterford Farm was her sanctuary. She truly admired the Kilcannon family, what they represented, and how they stood together, and that played into how she handled her job assignment in a big way.
With fun, flirty, intelligent dialogue and a storyline that will warm your heart, Sit…Stay…Beg was another shining example of why Roxanne St. Claire is one of my go-to authors for romance. I think readers will be thrilled with this new Dogfather series.
Book Info:

Publication: Published April 24th 2017 | South Street Publishing | The Dogfather #1
Garrett Kilcannon, a former dot com super-success who now devotes his life to rescuing dogs and finding them homes, prefers to keep his secrets buried as deep as a dog hides his bone. So when he learns his father has invited a journalist to Waterford Farm to write and produce an in-depth profile on him, he doesn't care that she's a childhood friend or drop dead gorgeous. He has zero tolerance for the media…until he sees a different side when she gets through the walls of a rescue dog who's refused to eat during her short stay at Waterford. Unwillingly charmed and undeniably attracted, Garrett agrees to the interview that could break down a few of his emotional walls, too.
Garrett might not want to share the story of his colorful former life, but Jessie Curtis has the skills to peel back the layers of this sexy, complicated, caring man. In the process, she not only discovers his secrets, she finds herself falling for a man who touches her heart in a way she never thought possible. Her entire career is riding on this one explosive interview, but can she bear to repay Garrett's trust by selling his secrets? Or can a woman who gave up on happiness a long time ago learn to believe that all it takes to rescue a lost heart is the love of a good man?