In Sleepless in Manhattan (From Manhattan With Love) by Sarah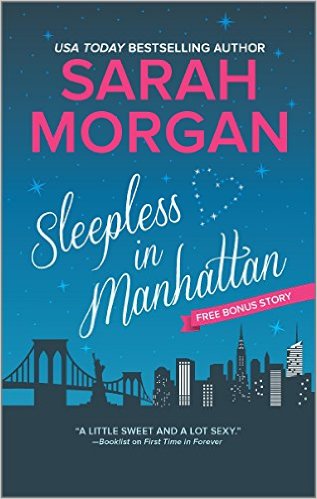 Morgan, Paige Walker thought she was going to have the best day ever by getting promoted. Until her boss fires her due to downsizing. Along with her best friends and roommates, Eva and Frankie, she has to figure out their next step. When the opportunity arises to begin their own concierge business, Paige is excited but skeptical. To start things up, she'll have to rely on Jake Romano. The man who is not only her brother's best friend, but who broke her heart in her late teens. Will things be too complicated having a business relationship when what she really wants is a romantic relationship?
"Maybe I do want you." The admission was dragged from somewhere deep inside him. "But I'm not doing anything about it, Paige."
Her smile widened. "Then I'll do it. Feel free to join in whenever you like."
The last decade has been successful but has seen Jake trying his hardest to keep beautiful Paige off of his mind. Being his best friend Matt's little sister places her in the friend zone. But she's not that brave little teenage girl, sitting in a hospital bed anymore. Paige is the one woman Jake will always want. When he offers to help her with advice and capital for a start up business, he didn't imagine he wouldn't be able to control his desire or emotions, although that's exactly what he faces. And for the first time, Jake is unsure of what his next move should be.
'Love was a lottery. Sometimes it worked. Sometimes it didn't.
In his experience, the odds weren't good. And the more it mattered, the more it hurt.
And Paige mattered.'
I am already hooked on Sarah Morgan's newest series after reading book one, Sleepless in Manhattan. It was so much fun, filled with the power of friendship, heartwarming moments, romantic tension and of course, a spectacular HEA.
Sarah Morgan is such a long-standing, solid romance writer that I know any of her stories will be a winner. That being said, I think her latest work is setting up to be something truly special. With a tie-in to her Puffin Island series (loved those books, too!) as Paige, Eva and Frankie all grew up there, this was the type of story that draws you in, seeing these smart and genuine women carve their path in NYC's business world and stay true to themselves while doing so.
Paige was the main female character, although we did get to figure out who Eva and Frankie were and what the dynamic was in their friendship. It makes me think of Jennifer Probst's Searching For series, where each of the three friends who formed Kinnections were so drastically different. That same cool, smart, sexy vibe was evident in our three female characters here. The situations and personalities were completely different from Probst's series, but I love that 'girl power' feeling. Especially when it's spent on building each other up and being successful instead of animosity and pettiness. None of that negativity was evident here, thankfully!
Paige was I guess what you'd call the ringleader in that she kept them all focused and organized. Something near and dear to my heart, so I felt a genuine affinity for her character. I loved that she came out of a childhood filled with hospitals and being so sick to become an adult full of ambition, love and a desire to help others. She wasn't bitter about her past. Instead she chose to live every moment, including going for true love. Which just happened to be her brother's best friend. I mean, who doesn't love that trope?
Jake. Oh my…what a great character he was. I might need a moment. 😉 No, seriously though, Jake was the epitome of a rags to riches success. I could've wept for what he went through as a child, but he was so straight-forward about what happened and moving on from it that it made me focus on where he was at present. Sexy, tough, but loyal and caring, Jake was a bad boy with a golden heart. He was afraid of the words 'I love you' and rightly so given his past, but you could clearly see his feelings for Paige. She definitely kept him on the level and made sure he was being honest with himself, though, which was great.
Sleepless in Manhattan was a fantabulous start to a new series by Sarah Morgan. I cannot wait to see how she will top Paige and Jake's memorable HEA with future installments. I think contemporary romance fans will fall in love with these characters, just like I did.
Book Info:

Publication: March 10th 2016 | MIRA | From Manhattan With Love
Great friends. Amazing Apartment. An incredible job. Paige has ticked off every box on perfect New York life checklist. Until disaster strikes…
What if the person who broke your heart, is the only one who can help you find your future?
Great friends. Amazing Apartment. An incredible job. Paige has ticked off every box on perfect New York life checklist. Until disaster strikes and instead of shimming further up the career ladder, Paige is packing up her desk.
Her brother's best friend Jake might be the only person who can help her put her life back together. He also happens to be the boy she spent her teen years pining after, and Paige is determined not repeat her past mistakes. But the more time she spends with Jake, the more Paige realises the one thing that was missing from her world all along. The perfect New York love story…