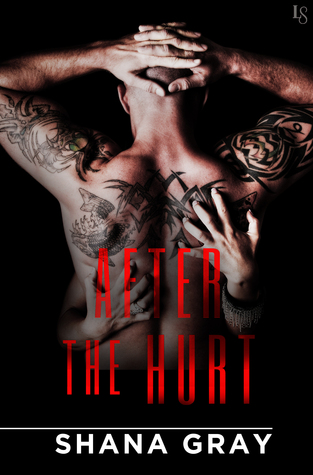 In After the Hurt by Shana Gray, Pepper Chapman knows she made a huge mistake when she abandoned the man she's always loved. But after her mother's death, her grief was too much to handle, and it was best to get away than stay and let him help her to deal with it. Even though the six months she's been away has helped, she's missed Tank so much and will do anything to earn his forgiveness. The question is – will he give her a second chance, or has she blown her opportunity of the future they had planned together?
"I'm here to see you." Surprised she sounded so calm when the riot of emotion inside her made her want to puke.
One dark eyebrow arched up. "Me? After all this time?" He didn't hide the sarcasm in his voice. "Not sure I believe that."
Tank Callaghan suffered enough blows in the cage as an MMA fighter, but his worst one was his girlfriend leaving him. After six months, she's decided to return, yet he doesn't know whether he can give her a second chance. Not when her leaving the first time hurt. He has a big decision to make, and that decision could drive them apart forever, if he decides to follow through with it.
Second chance romances – I believe — always make good reading, and Ms. Gray has penned a book that was both intense and enjoyable. Encompassing a heroine determined to win back her man and a hero that doesn't know if he can give her a second chance for fear she'll leave him again. I really liked how this book started with the heroine determined to see Tank, and things not turning out as well as she expected. The emotion behind the two characters really drew me into this story, most especially Tank's bitterness towards her leaving and Pepper getting angry with the hero's reaction to her return. Not that I could blame him.
I liked both characters, although Pepper did frustrate me at times. How could she think that Tank would just accept her back into his life after what she did? They'd been together for so long, and yet, it was as if she didn't trust him enough to allow him to help her overcome her grief. Then again, the time away did her a lot of good. It gave her a new appreciation for life, and I liked how it made her realize that she'd make a mistake by leaving Tank.
He snorted and shifted to the other foot. "That's bulls***."
She shook her head. "No, it's not."
He shook his head. "I don't believe you. That's not like you."
Pepper pursed her lips. "Well, I don't."
His eyes narrowed. He didn't believe her, but he didn't look away. Pepper was the one who managed their books, being the budget conscious ones of the two of them, and she was damn good at it. For her to be without any money was unbelievable, though she held his stare with her chin thrust out.
While Tank, he's a great hero and the dialogue reflects that. Indeed, it was intense due to both the main characters back stories, the dose of suspense that threatens their lives, and the decision that Tank has to make when it comes to Pepper. Honestly, I felt sorry for the hero. He was so hurt by Pepper leaving him that he doesn't know whether he can forgive her. Especially because if he did forgive her, who is to say that she wouldn't leave again, if a situation got to hard for her to deal with. Just as it did when her mother died, believing it was all her fault.
Overall, I did enjoy this book where the sex scenes were fan-your-face hot, and definitely did justice to this couple's strong chemistry, which was there from the moment they came face-to-face again after six months; despite the fact that the moment was also filled with so much animosity. As for the ending, I liked it, as this couple finally put into motion their dream of forever together. I would recommend After the Hurt by Shana Gray, if you enjoy the friends to lovers trope.
Book Info:

 March 29th, 2016 | Loveswept |
Shana Gray's provocative novel features a resilient fighter going round for tantalizing round with the one that got away—a headstrong woman bent on seduction.
Pepper Chapman refuses to throw in the towel. Six months ago, she made the biggest mistake of her life. Blinded by grief after her mom's death, Pepper abandoned the man she loves. Now she wants a second chance at everything she gave up: strong hands driving her to ecstasy . . . a deep voice whispering naughty promises in her ear . . . the future they'd planned since they were teenagers. So Pepper comes home looking for forgiveness, ready for a new beginning—if he's willing to give her a shot.
Retired MMA star Tank Sherman may be used to low blows, but Pepper's emotional sucker punch left him reeling. Trying to ignore the pain and forget the pleasure of her body beneath his, Tank is prepared to ring the final bell on their relationship. Then Pepper shows up out of the blue, radiating pure sex. But Tank won't let himself get hurt again, and that means resisting the heat that still burns between them. Because if he takes Pepper back, he knows he'll never be able to let her go again.