In Solo by Jill Mansell, Ross Monahan and his brother Max, well-known hotel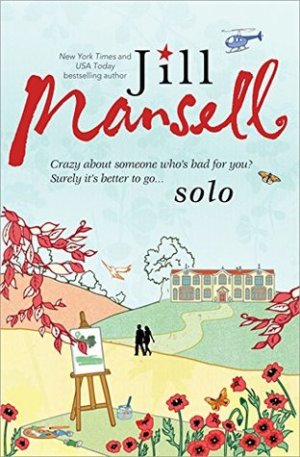 owners and eligible bachelors, have been successful in most endeavors in their lives. And when it comes to women, they know they can have their pick of the local beauties. But one night spent with an up-and-coming artist and Ross's world tilts on its axis. He's never been as besotted with someone as he is with Tessa Duvall. Maybe it's because she's not intimidated by him or impressed with his wealth. (Or scared off by his domineering brother.) He knows he wants to show her that their connection is something special. If only his checkered past, and one specific lonely socialite, wouldn't keep coming back to haunt them whenever it seems Ross is making headway with Tessa.
'That indescribable magic was still there, as he had known it would be, but now at last he had succeeded in proving to Tessa that it still existed. And that it was too precious and too important to ignore.'
Living humbly and within her means has never been a chore to Tessa, even with watching her wealthy best friend Holly lead a fairly decadent lifestyle. She loves spending her days painting and takes odd jobs around Bath to hang on to her beloved little cottage. But getting talked into going to a ritzy hotel party where Holly wants to put the moves on Max, Tessa is the one who ends up spending a steamy night with someone–playboy extraordinaire Ross–and it changes her life forever. And not necessarily in a good way. Because as much as Tessa is attracted to him and knows they could have something real together, his reputation as a womanizer is hard to get past. And she's not sure if he'll be able to prove himself trustworthy enough to take a chance on him.
'It had been hard enough trying to get him out of her mind after just one night. If she gave in now it would only make matters worse. She was going to kick the habit before it got completely out of hand. This time she was going to say no.'
A reissue from 1991, Solo was a novel filled with enough drama and lust to put most soap operas to shame. But add in a few tender moments and some funny bits to balance out all the bed-hopping and you have something that is unique to Jill Mansell's style of writing.
'Having never imagined herself in the role of mistress she still found it hard to come to terms with the fact that she was one. With the right man, she had discovered with more than a twinge of guilt, it was appallingly easy.'
All right. So this was definitely a dramafest that, although quite amusing, might possibly be hit or miss with some readers based on the reviews I've seen for it. I think it helped that I'm familiar with Mansell's writing and I look forward to all the crazy, madcap adventures her characters will go on in order to find their HFN or HEA, as the case may be. So the antics of our cast wasn't a surprise. What *was* a surprise was how much of a reaction they brought out of me, adoring some (Adam, Grace) and disliking others (Antonia, Max) to the extent that I did. And because of that strong reaction, as well as the romantic moments where the characters truly connected, that's what kept me hooked until the very end.
As always with Mansell's stories, there were a lot of people to keep track of–but it was actually pretty easy for me this time to keep them all straight, as they each served a specific purpose to the story, I thought. The major focus was on Tessa and Ross but we also saw a lot of Holly and Max. I felt like with each of the romantic relationships we watched, there was an ongoing 'will-they-won't-they' factor that might get frustrating for some, but it did pull me into their situations and held my attention. One of the things that seemed apparent to me was that each person was cast in a realistic light, showing both their good and bad side. No one, main characters or secondary, were immune from having their own drama thrown at them. It kept things interesting, to say the least.
With love triangles, backstabbing, loads of desire, selfish acts, and complicated emotions, Solo was a roller coaster ride of a book where one chic party changed numerous lives in one fell swoop. And dealing with the fallout was where the story truly began.
Book Info:

Publication: Published January 1st 2017 | Sourcebooks Landmark |
"Mansell's…gentle humor and enormous heart always ensure a treat for her readers." -RT Book Reviews for Making Your Mind Up 4 Stars
It all starts at a party, as these things often do…
• A one-night stand with far-reaching consequences
• Momentarily enamored guests going home with all the wrong people
• An unfaithful wife struck by jealousy and getting a dose of her own medicine
• A shocking family secret revealed at the worst possible moment
One fling follows another, and now the whole community is embroiled in a great big web of deceit, the untangling of which will charm you, amuse you, make you laugh and make you cry.
Whatever's going on in your life, Solo by Jill Mansell is the perfect distraction right about now…
"A graceful blend of heartbreak, humor and redemptive love." -Kirkus for The Unexpected Consequences of Love