Royal Scandal by Marquita Valentine: For the past ten years, Crown Prince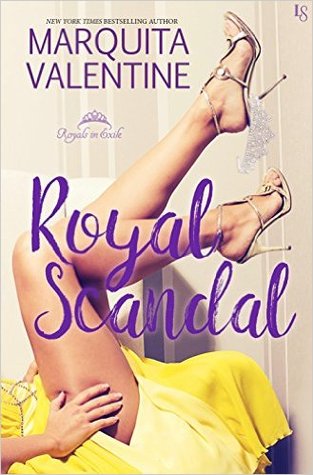 Colin, along with all his siblings, has been an exile from his country and raising his infant brothers as his own sons with the help of Della, the maid next door. For years, too, Colin has been in love with Della but has never made a room, not knowing she feels the same for him.
But when a chance to be united with his country comes with conditions he cannot abide, Colin marries Della to force parliament's hand into a new direction. Although, their marriage begins as name only, neither can stay that way very long, and soon enough their feelings are known.
Yet both are keeping secrets that may change their entire relationship and make a forever impossible.
"Read the contract, love, then decide if you want to change it."
"I don't want to read it right now."
Colin's hand goes to the back of my neck, cupping me there as his lips trace a path down my throat. "I'm in no hurry for you to."
Royal Scandal is an extremely cute story, surprisingly sexy, and definitely contains some interesting politics. Romance wise I would not call it the most interesting considering very little truly happens and they're pretty happy together most of the story. The only conflict is more like angst and overthinking. However, I loved both Della and Colin.
They are a perfect pair and just darling together. And even though the politics create the real story here – in a fantasy country styled after Great Britain and some crazy family drama kind of way – the story really does focus in on this couple. Although Colin initially comes across as straight sweetheart, he has a much sexier side which Della brings out, and one which I always appreciate in my heroes.
I definitely want to follow this series along and Royal Scandal was a fun way to start it off. I'm curious to see where else Valentine will take me. For any of those royalty romance fans, I highly recommend Royal Scandal. It's got a great cast of characters and a pair of adorable young boys.
Book Info:

Publication: January 24, 2017 | Loveswept | Royals in Exile #1
Fairy tales do come true—and so do tabloid scandals! Bestselling author Marquita Valentine kicks off a juicy contemporary romance series with a novel about a prince whose best-laid plans go deliciously awry when he marries the maid next door.
Forced to flee to the United States with his siblings after their parents' assassination, Crown Prince Colin Sinclair takes it upon himself to become the caretaker of his family while hiding out near Charlotte, North Carolina. But after a decade in hiding, the secret's out and Parliament demands that Colin wed a princess of their choosing. Unwilling to play their game, Colin decides to marry an American instead, and he has the perfect candidate in mind.
As a home-service professional, Della Hughes doesn't believe in storybook endings. But when her best friend and secret crush reveals that he's a flesh-and-blood prince, she doesn't know what to think. Still, she'll do anything for Colin, including becoming his wife—in name only, of course. But when their plans to stay purely platonic go by the wayside, their fake honeymoon turns all too real. After a week of white-hot nights, Della can no longer deny her feelings—not with a happily ever after so tantalizingly close.