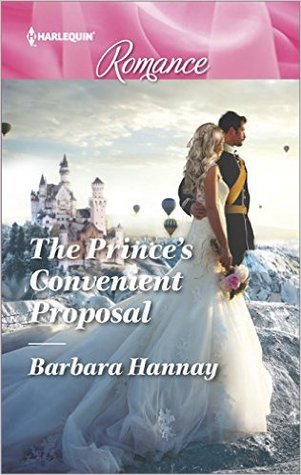 The Prince's Convenient Proposal by Barbara Hannay: What starts as a convenient arrangement with two grown ups turns the world upside down.
Charlotte, Charlie, Morisset knew what it was like to live pay check to pay check. Which while not okay was at least something she was used to, even if it wasn't her fault. However when her half sister needs her and needs a lot of money she is willing to do just about anything to make it happen.
Rafael, Rafe, St. Romain was a prince and very shortly to be a king. However with his father's death he received the wake up call of the century needing to marry and protect his country as soon as possible. He knew with the right girl and the right amount of money he could do just that. What he didn't count on was her flightiness and now he was trying to deal with those ramifications on top of everything else.
When Charlie and Rafe meet it is like the stars have aligned to make everything work in their lives and the bonus was it was all only temporary, or was it?
Wow, this is one of those stories that just has the power to draw you in and make you feel like nothing else matters. The love and the "realness" that this story proclaims is truly nothing short of extraordinary. Ms. Hannay has a way to draw her readers into the story connecting them and making her words come to life. This is one you need to clear some time to read, because you won't want to put it down.
PS. LOVE the cover
Book Info:

 Expected publication: January 3rd 2017 | Harlequin Romance |
The stand-in fiancee
To secure his country's future, reformed playboy Prince Rafael of Montaigne needs a wife. A convenient marriage seems the ideal solutionuntil his fiancee disappears and Rafe must ask her identical twin sister, Charlie Morisset, to become his stand-in bride-to-be!
Down-to-earth Charlie accepts Rafe's convenient proposalin exchange for the funds to save her baby's sister's life. Being swept into a crazy royal whirlwind seems a small price to pay, until she finds herself falling for Rafea prince she knows she will have to walk away from