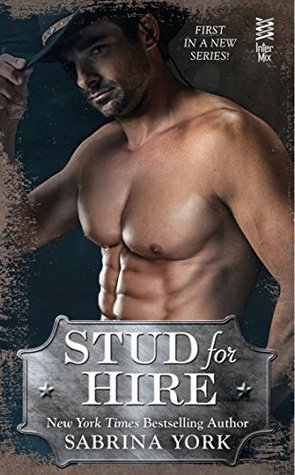 Stud for Hire by Sabrina York is book one in the new Stripped Down Series and revolves around Hanna Stevens and Logan Landry. If cowboy romances are your cup of tea, Stud for Hire should definitely be your next read!
Hanna is getting married, so obviously there would be a bachelorette party. Hanna's sister goes one step further and plans a bachelorette weekend at the Double S Ranch. Don't worry, Hanna won't be hauling hay or anything like that, nope, the Double S Ranch is a dude ranch for women and filled with stripper cowboys. Yee-haw! The only issue here is that Hanna doesn't want to be there and her future husband, Zack, is a giant douche nozzle. But when Hanna sees Logan, all her negative thoughts evaporate and the only thing she can think about is getting down and dirty with Logan.
"She was barely touching him, yet his presence, his heat, his scent enfolded her.
Something about it, something about him, hit her deep in her core. A wave of need, unlike any piddling desires she'd ever felt before, swamped her."
Logan's the only man that's inspired this kind of hunger before and she plans to go after him before she's forced to get married. Yes, you read that correctly, forced. Zack told Hannah that her father is broke and if she marries Zack, he'll help pay off her father's loans. As you get into the story, you find out exactly what Zack is up to and the kind of man he really is.
Logan has wanted Hanna for a long time. She doesn't remember him, but they went to high school together. Logan is definitely not the same man he was back then and he's out to win Hanna this time around. Their chemistry is seriously off the charts! Hanna and Logan are so hot together, that I'm surprised they didn't burn down the ranch. The funny thing, though, is that Hanna thinks Logan is a stud for hire. She thinks he's just one of the cowboy strippers out to show her a good time this weekend, but that's not exactly the truth. Logan is only there because of a bet, but if a stud for hire is what she wants, who is he to deny her?
Stud for Hire pulls you in immediately with its sexy characters, heartwarming romance, and well-written words. Highly recommended to those who enjoy their romance to be on the sexy side!

Book Info:

 August 16th, 2016 | InterMix | Stripped Down #1
Just south of Fort Worth, Texas, you'll find a little ranch where the hot, toned cowboys are ready and eager to take it all off and make your naughtiest fantasies come true…
When her sister plans a wild bachelorette weekend at the Double S Ranch, Hanna Stevens is pretty sure she'll just grin and bear it while the other women get their fill of hot cowboy strippers. After all, Hanna has never met a man who made her really want.
Zack, Hanna's future husband, offered to marry her and save her family's ranch from financial ruin, and while she accepted, it was never what you'd call a passionate affair. But when she locks eyes with Logan, Hanna is suddenly overwhelmed by the feeling she's always craved and never experienced: Pure. Animal. Desire…