In The Art of Running in Heels (Chinooks Hockey Team #7) by Rachel Gibson, Lexie Kowalsky grew up around hockey players–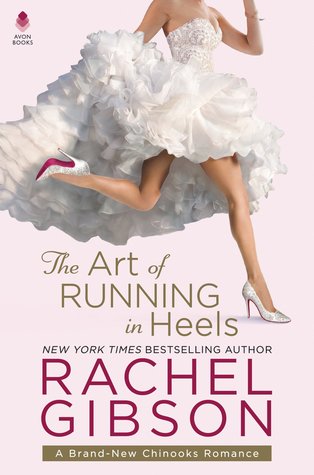 her dad John is one of the Greats–and got used to the drama that surrounds them. But she never thought her own theatrics would be splashed all over TV when she joined the cast of the reality show Gettin' Hitched. The show brought out her competitive spirit and before she knows it, Lexie is getting ready to marry a man she doesn't even know. At. All. In one of her more embarrassing moves, she runs away in her designer dress and killer heels, catching a flight from a friend to the middle-of-nowhere Canada. Somehow sparks fly with the gorgeous passenger she enlists to help her hide from the media for a couple of days. And before long, Lexie knows she's in over her head with Sean. Good thing she'll never see him again when she heads back to Seattle. Right?
'She'd gone ahead and done it. She'd gone ahead and fallen in love with Sean Knox.'
Sean didn't know what to think when a vivacious blond in the poofiest wedding dress he'd ever seen came crashing into his life. Lexie may be sexy as hell, but all her drama is something he definitely does not need in his life. Not with his always ailing mother back home in Sandspit, Canada constantly bugging him and his newly traded status to the Seattle Chinooks hanging over him. Okay, so Sean should have been up front with Lexie when he recognized her, but she didn't realize he was the new star player on her dad's team. And he really meant to tell her before they had a steamy night together. And after. But the time was never right. Now Sean is faced with an angry Lexie and somehow agrees to become her fake boyfriend to keep the media off her case after the fallout from her ruined wedding. When things take a turn from lust to, well, the other L word, Sean can only wonder what the heck he's gotten himself into this time.
"I've never been compared to a three-legged dog."
"You're cute and fairly well groomed."
"Thank you."
She smiled. "But Buddy is better behaved."
"I behave when I want to behave." He lifted her chin and said against her lips, "And right now, I don't want to behave."
Fun, flirty and sexy, The Art of Running in Heels is yet another entertaining installment in the long-running Chinooks Hockey Team series. Lexie Kowalsky's story basically brought us full circle, giving us glimpses back where it all began with her parents in book one, Simply Irresistible. *And* with Lexie becoming a runaway bride just like her mama was back in the day.
'In two short months, she'd caused him nothing but drama. Hot, sweet chaos that he couldn't imagine living without.'
I always get a chuckle (okay, more than one) out of Rachel Gibson's romances. And even though I found Lexie to be a tad on the act-first-and-think-later side of things and Sean could come across as an arrogant alpha, I still had a good time with their over the top antics and their fake relationship. I think this was the type of fluffy feel good story where you just have to let go and let things happen. Don't overthink it. Don't get caught up in the trivial details. Just have fun and be completely entertained by the characters and even the unique furbabies we meet. And with the stress of the holidays upon us now, this was just the type of story I needed to crack a smile and sigh happily for a bit.
Okay, so Lexie was kinda crazy–but in a good way. She was smart but a little flighty. She adored animals and raised money to help rescue organizations but she was used to the finer things in her own personal life. There was such a yin and yang to her personality and actions that I never quite knew what she'd do. And neither did Sean, for that matter. He didn't want any chaos in his life after the tumultuous upbringing he had. (Boy was his mother a piece of work!) But it was comical watching him try to figure Lexie out. He was so completely out of his element I almost felt bad for him. Almost. Until he came off as a cocky, big and bad hockey star. Then I cackled with glee when Lexie took Sean down a notch or two. (lol)
The Art of Running in Heels was filled with the humorous touches I look for in a Rachel Gibson novel along with lots of steamy chemistry and one kooky, unforgettable predicament after another.

Book Info:

Publication: December 26th 2017 | Avon | Chinooks Hockey Team #7
Running in five-inch stilettos is an art form. Leaving your fiancé at the altar on live television is a disaster.
Lexie Kowalsky thought she was ready to get married in front of millions of people, but at the last minute she fled the set of television's hottest reality show, Gettin' Hitched. Wearing a poofy white dress and a pair of five-inch sparkly shoes, Lexie hopped a float plane for Sandspit, Canada. She figured no one would find her there. But she was wrong.
Sharing her flight was the Seattle Chinooks biggest star, Sean Knox. Lexie wasn't just a reality-show runaway, she was his pain in the butt coach's daughter. She was chaos and temptation and definitely off limits, but getting her luscious body out of that wedding gown, he couldn't resist getting her in his bed for one amazing night
Then a photo of Sean and Lexi breaks the internet—and suddenly they're both swept up in a crazy plan to spin the whole story. But you can't run from love.