Show Me by Abigail Strom is a unique romance that deals with science and space. The hero is an astronaut and our heroine is quite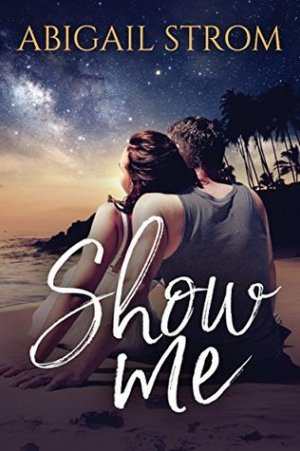 familiar with his passion. This is my first book by this author, but I would definitely read something else from her.
Airin Delaney is sheltered. Her mother is controlling and keeps her on a tight leash. Airin hasn't even experienced her first kiss, so she sneaks out of her hotel and runs into Hunter Bryce. Sparks fly between the two.
Hunter is immediately attracted to Airin. She's different and proving to be unforgettable. When they decide to take a drive back to his place, so he can give her all the experiences she wants, they get into a car accident and Airin ends up hurt. Hunter gives up his mission in space to stay with Airin at the hospital until her mom shows up. Turns out Airin's mother is pretty special, especially when it comes to his career. Before Hunter knows it, he's making a deal with her to advance his career. A deal that Airin cannot find out about.
Show Me is more of a slow burn romance. It didn't start off that way, but Hunter keeps to himself for as long as he can. He knows he has to distance himself from her because of the deal with her mother, and because he knows he's better off single. Hunter's always wanted to go into space, but it's not a career for a family man. But Airin makes it difficult for him to deny himself or her and before they know it, they are seeing stars.
The characters and plot were unique and refreshing. I enjoyed reading Airin and Hunter's story and would definitely recommend it.

Book Info:

Publication: January 2nd 2018 | Montlake Romance | Me series #2
"Houston, we have a major attraction."
After years of dealing with a heart condition and an overprotective mother, Airin Delaney is finally having her first taste of freedom in Waikiki—and it's intoxicating. But it's nothing compared to the out-of-this-world attraction between her and astronaut Hunter Bryce. Airin is determined to shoot for the stars and experience her first real kiss.
All Hunter has ever wanted is to explore the universe. That is, until a certain black-haired, wide-eyed beauty shakes him to the core. Hunter knows almost nothing about Airin, not even her last name. All he knows is that she's the kind of girl he could fall over-the-moon in love with. Unfortunately, the timing couldn't be worse. While Airin is celebrating her first night of freedom, Hunter is celebrating his last—before embarking on an eight-month mission.
It was only supposed to be one night. But sometimes that's all fate needs to change two lives forever.