The Dangerous Billionaire by Jackie Ashenden is the first book in a new series that follows three foster brothers. I am a huge fan of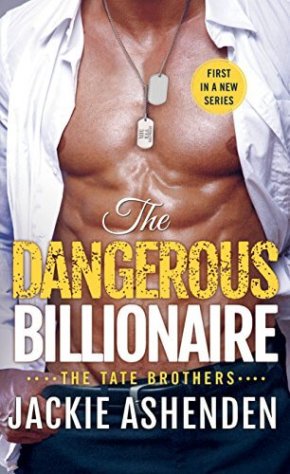 this author and every time she releases a new book I jump for joy! I'm not sure how she does it, but Jackie Ashenden always gives me characters who I fall in love with and a story that keeps me engaged. For those who love their heroes to be billionaires or SEALS, this story has both.
Chloe Tate is finally in New York, but it's not for pleasure. Her father was supposed to leave her the ranch in Wyoming, but decided to leave it to her foster brother, Van, instead. The same foster brother she fell in love with years ago and one who she hasn't seen in a years.
Sullivan Tate is a SEAL. He doesn't want to be the heir who has to stay and run Tate Oil, but when his father's lawyer gives him a letter from good old dad, he has no choice but to stay put. Not only does he have to run Tate Oil, he also needs to protect Chloe. Turns out the old man has been keeping a big secret and it revolves around Chloe and her real father.
To say Chloe isn't happy is putting it mildly. Not only does her ranch get stolen out from under her, but now she's in danger. Van's number one priority is keeping Chloe safe, so he makes a deal with her stating that he will give her the ranch, if she will do what he says and allow him to protect her. What Van didn't count on was how much Chloe affects him and how good they are together. It's only a matter of time before they are burning up the sheets together and falling for each other. Only, a happy ending is a little bit from their reach with the danger revolving around Chloe's real father and Van's past barreling down on them.
I loved Chloe and Van as characters. I thought they were great together, once Van got over his issue of being her foster brother. It's not very taboo to begin with, since Van left for the Navy while Chloe was still a kid, but it was interesting, none the less. Overall, an enjoyable read that has me eager to read the next book.

Book Info:

Publication: May 2nd 2017 | St. Martin's Paperbacks | Tate Brothers #1
Nothing about Sullivan "Van" Tate is what it seems. A Navy SEAL raised among the New York City elite, Van prefers heart-pounding action over a Wall Street corner office. But when his adoptive father dies and his business rivals move in to overtake his empire, Van must suit up to save the company and protect the one woman most forbidden to him…and the object of Van's most dangerous desires.
Chloe Tate is as ambitious as she is gorgeous. With a newfound independence, Chloe is no longer a prisoner on her father's ranch. But everything changes when losing her father may also mean losing her life. Even with her survival on the line, Chloe can't deny the burning attraction she feels the moment she locks eyes with Van, her rich, rough and ready, foster brother and the new head of her father's company. Tall, dark, and muscled, he's the one man who she has no business being with. But how can she resist a Navy Seal Warrior when he'll do anything to protect her?