In The Devil's Triangle  (A Brit in the FBI #4) by Catherine Coulter, J.T.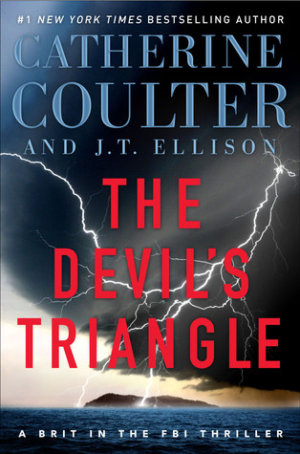 Ellison, The search for the Ark of the Covenant and a machine that can control the weather aren't two topics FBI agents Nicholas Drummond and Michaela "Mike" Caine would normally link together. But the new case they and their Covert Eyes teammates are researching puts them smack dab in the middle of a modern day hunt for religious artifacts. At the forefront of their investigation is the corrupt family, The Koaths–supposed direct descendants from Moses, who have spent generations dedicated and focused on their cause of locating the staff of Moses and the Ark.
"I won't even ask how you got my secure email address."
"Truly, Nicholas, if the Americans have any hope of remaining at the top of the world food chain, they need to realize that giving every agent the same-patterned email address isn't a safe road to security, no matter the level of encryption."
It's when famous thief Kitsune, aka The Fox, contacts the Covert Eyes team after nearly being killed by her clients, the Koaths, once her heist is complete, that leads to a global search for the truth. But the more details Nicholas and Mike uncover, the shadier the dealings are and the more unbelievable the facts become. With every member of their team as well as Kitsune and her husband in mortal danger–not to mention the entire world–they'll have their work cut out for them if they hope to stay alive and stop a family full of evil intentions.
"Their family's mission has always been to find the Ark; it's never been a secret. And now that we've reached an era of remarkable scientific innovation–"
Nicholas said quietly, "Perhaps the power of God and the brilliance of science have merged at last."
A world-spanning adventure with plenty of action and shady characters, The Devil's Triangle was a cool combination of Indiana Jones meets James Bond with some Da Vinci Code thrown in for good measure.
'Through this door lies a weapon of great power. Open it, and it will indeed kill.'
I'm still rather new to this series that Catherine Coulter and J.T. Ellison have created, and admittedly there were numerous characters to keep track of, but this was one exciting page-turner. Having said that, though, I have a feeling some readers might get hung up on the details that made the story not so realistic. I think if you don't get caught up in how believable it would be to have a machine that can control the weather and in the centuries-long search for the Ark of the Covenant then this will prove to be a fast read that certainly takes you on a high-flying journey. (Somehow I can totally see this very easily becoming a movie.)
I found myself really getting quite a kick out of the Covert Eyes team and their easy camaraderie. Most of them, especially Nicholas, had a lovely dry wit. And they were able to switch from teasing each other one moment to being completely focused on their work the next. Of course it didn't hurt that being in the FBI and having ties to MI-5 they had some James Bond-type gadgets to keep them occupied, which also made the action scenes that much more inventive and fun. I do have to say that while there wasn't a ton of romance to the story, Michaela (Mike) and Nicholas's relationship did come across loud and clear and it was obvious there was a lot of love and mutual respect between them.
If you have a passion for history, action-adventure stories, ancient prophecies, and complicated family bonds, then The Devil's Triangle is just the novel for you.
Book Info:

Publication: Published March 14th 2017 | Gallery Books | A Brit in the FBI #4
FBI Special Agents Nicholas Drummond and Michaela Caine have a new mandate as the government's Covert Eyes, assembling a handpicked team of top-notch agents to tackle crimes and criminals both international and deadly. But their first case threatens to tear the fledgling team apart when the enigmatic thief known as the Fox reappears with a plea for help.
Master thief Kitsune has stolen the staff of Moses from the Topkapi Museum in Istanbul, and now that she's delivered, her clients are trying to kill her. On the run, she asks Nicholas and Mike to help her discover the true identity of her clients and stop the threat against her life. Under strict orders to arrest the Fox and bring her back to New York, the Covert Eyes team heads to Venice, Italy, to meet with Kitsune, and finds nothing is as it seems. Kitsune's secret clients are the Koaths, a family descended from Moses himself, who will do anything, anything, to find the Ark of the Covenant and wield its power, as their long and bloody history can attest. To execute their plan, they've spent years perfecting a machine that can control the weather, manipulating worldwide disasters that spin the entire globe into chaos.
From New York to Venice, from Rome to the Bermuda Triangle, Nicholas and Mike and their team are in a race against time, and nature herself, to stop the Koaths and recover the famous Ark of the Covenant. But can they trust Kitsune, their sworn enemy, to help them save the world from a family of madmen?