The Final Score by Jaci Burton: Mia and Nathan have been best friends since college. They have always been close, in part since they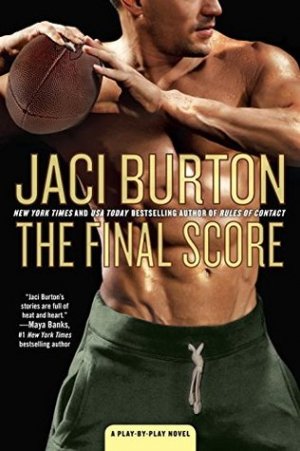 could relate to being a part of a sports dynasty. They are looking forward to spending more time together since they will both be living in the same city again. And they are going to need each other more than ever as their careers seem to be taking off.
Nathan is thrilled to finally have the starting quarterback slot, but he's nervous about the spotlight and expectations. He's feeling the pressure to be a leader and succeed as he has some big shoes to fill with his father's retirement. Mia just started her own sports management company and she's determined to have her business succeed. She knows sports and is an avid fan with so many family members being star athletes.
While they have been friends for so long, neither can forget that one drunken night in college when they crossed that line. It was an amazing night, but Mia insisted that it was a mistake never to repeated or spoken of again. It's too bad that their inconvenient attraction hasn't gone away, but instead has grown stronger.
"You mean you'll need to add a section in your planner for 'Mia and Nathan's Relationship?' Will there be bullet points?"
She shoved at him. "You know, sometimes having someone know you so well can be a detriment. No, moron. What I mean is I need to think about this. We need to talk about it. Are we in a relationship? Are we still friends? Are we going to get emotional about this or are we just having fun? And yes, dammit, I will be making notes in my planner about it."
Mia is a strong, independent woman who wants to succeed. Nathan is sexy, strong, solid, loyal, and confident. They are one of those couple who don't know they are already a couple. Both want more and it's getting harder to ignore their feelings in spite of the less than ideal timing. Neither want the distractions of a relationship, but once they cross that line again all bets are off.
"Yeah. Well, when I thought you had a date, I didn't like it."
She tried to fight the smile. "Okay."
"So I'd like you to be with me, Mia. Just me. Try me out for a while. I know you'll like me."
She laughed. "I'm not seeing anyone else, Nathan, and have no intention of doing so. And I already like you."
The Final Score is sexy, funny, and engaging. Jaci Burton doesn't disappoint as we revisit the delightful Riley and Cassidy families with this friends to lovers story. Ms. Burton continues to entertain with banter, great characters, and amazing chemistry. The Final Score can be read as a standalone in the Play-by-Play series. Fans of Lorelei James, Jennifer Probst, and Kate Meader will enjoy The Final Score.

Book Info:

Publication: September 12th 2017 | Berkley | Play-by-Play #13
In the new Play-by-Play novel by the New York Times bestselling author of Rules of Contact, a star quarterback is torn between his love of the game—and the woman who may be the love of his life.
Nathan Riley is ready to follow in the footsteps of his famous football player father. He's been drafted as quarterback for his dad's former team, and his sports future is bright. When his friend Mia Cassidy moves to the same city, their years-long friendship suddenly sparks hot, reminding him of the one night they had together in college that he can never forget.
Like Nathan, Mia is from a sports dynasty family and embarking on an incredible new career—as founder of her own sports management company. Her friendship with Nathan means everything to her, and tossing sex into the mix again could jeopardize it all. But the chemistry between them has always sizzled, and it isn't long before Mia realizes she wants more with Nathan than just late-night talks and pizza.
Passion has a funny way of changing the rules, and soon Nathan and Mia realize that to win it all, they'll have to make an unexpected play for love.