In For Joy's Sake (Where Secrets are Safe #12) by Tara Taylor Quinn (HQN), Julie Fairbanks does everything she can to avoid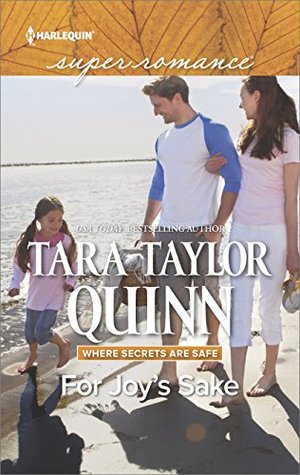 relationships, especially after the terrible incident in her teen years that has left her afraid of ever putting her trust in88xxx a man again. However, Hunter Rafferty doesn't give up easily in asking her out and her ability to resist his offer becomes harder once they start working together to help a young girl overcome her trauma. Will Julie be able to overcome her past to have a shot at happy ever after, or will she lose the one man besides her brother that's she's been able to completely trust for the first time in years?
"There's something about you. It's like you're a witch and you've cast a spell on me and if I could only have dinner with you, the spell would be broken."
Probably one of the least charming things a man had ever said to her. "Your goal is to break the spell?"
"Yes."
"Then what?"
"Then I don't have to keep asking you out and getting turned down."
This is the first book I've read by Ms. Quinn, but I've got to say that it won't be my last. Since everything about this book – the fantastic main characters and their emotional back stories; the dialogue that had me flipping the pages quickly determined to discover what obstacles this couple would have to overcome to get their happy ever after; and the ending, which left me completely happy for this couple – was very entertaining. The way this story started sets the fast pace of this story and drew me in immediately, as Julie is a very intriguing character that has been through so much and who has the secondary characters wanting her to stop hiding and begin to be able to interact with those she used to again. Will she be able to handle interacting with people outside of the place where she volunteers?
As for the dialogue, it was intense and compelling due to the main characters back stories that had me sympathizing with everything this pair had been through in their pasts. The heroine is afraid to give a man a chance after what happened to her while the hero believes no one should ever rely on him to make them happy. Will Hunter be able to get Julie to fully trust him? Will Hunter finally realize that he has the ability to be there for someone when they need him? Moreover, the heroine is resilient and brave in being able to let Hunter in, especially since it's not easy for her to trust a man. I also liked how kind and caring she was towards Joy and how determined she was to help the young girl be able to overcome whatever she's been through.
"You date, but don't make promises?"
"Yep."
"Do the women you're with understand that?"
"Yep."
"What about a family? Kids?"
"They're great. Just not for me. I'm not the guy who's good at having other people rely on him for their happiness."
While Hunter, he was a fascinating hero that I was absolutely charmed by. He's been through a lot and it's not easy for him to let people get to know the real him and all that he's been through, but he wants Julie to give him a chance and I liked how determined he was, as she needs someone – least of all a friend – outside of her family and those she works closely with. I also liked how he helped Julie with Joy and how he managed to get the little girl to trust him through offering her moments of amusement. Yet, what I liked most of all about this couple is how they pushed beyond the boundaries to find happiness together. Certainly, Julie needed to overcome her past and realize that Hunter is nothing like the person that hurt her and Hunter needed to realize that people need to be responsible for their own happiness. They shouldn't rely on others to make that happen.
Overall, Ms. Quinn has penned a wonderful read in this book where the chemistry between this couple was intense and the ending tugged at my heartstrings because of what happened to the hero to make the heroine distance herself from him. How could anyone accuse the hero of doing the one thing that would upset Julie? However, what I enjoyed most about the ending is what the hero discovered about Julie and the determination the heroine had to win Hunter back, especially since she knew in her heart that he was a good guy. What a huge surprise the hero received from Julie and a wonderful way for her to show Hunter how much she trusted him. I would recommend For Joy's Sake by Tara Taylor Quinn, if you enjoy the opposites attract trope or books by authors Nan Dixon, Cindy Miles and Rachel Brimble.

Book Info:

Publication: August 8th, 2017 | Harlequin SuperRomance | Where Secrets are Safe #12
There's something about Julie
Hunter Rafferty is committed to two things: his bachelor lifestyle and his career as an event planner. But working with Julie Fairbanks on a fund-raising gala is quickly becoming the best part of his day. He can't stop thinking about the mysterious beauty—despite her refusals to have dinner with him.
Everything changes when seven-year-old Joy comes to The Lemonade Stand, a shelter for victims of abuse. To help Joy overcome her trauma and the mystery surrounding it, Hunter and Julie push beyond their boundaries, confronting their own past pain…and feelings for each other.