In Under Fire by Scarlett Cole, Sixten Rapp has just left the SEAL's and started a security firm with two of long-time friends, who were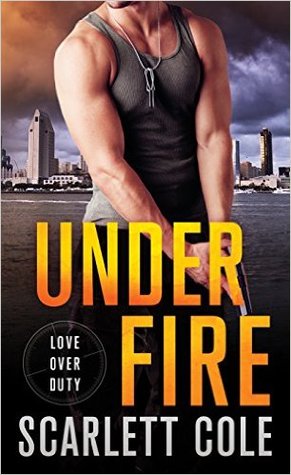 also SEAL's. When he meets Dr. Louisa North at a fundraiser where he's working and she's giving a speech, he expects it to be a one-time meeting. Only something is amiss at Louisa's lab, and a sample of her work is missing. Fearing that it could be used as a weapon, she reaches out to Sixten for help.
Too many times in romantic suspense the heroine goes out and does something ridiculous, which lands them into hot water. This was not the case with Louisa. She's smart enough to get rid of another sample before the bad guys could get their hands on it. She's suspicious of people she works with, including the owner of the lab, and refuses to meet with him when he asks her to. She takes every precaution to keep herself and her work safe. She listens to Sixten and his team instead of running off on her own.
After Louisa signs a contract with the Eagle Security, Sixten's partners make it clear he can't be romantically involved with her. With the business just getting off the ground, it wouldn't look good for them if he's sleeping with a client. Yet Sixten ignores them, and his inner voice that agreed with them, and becomes involved with her. While his teammates struggle to believe that someone really took the sample, Sixten instantly believes her. I liked how accepting he was of her quirks, such as organizing his plants by size, when she was scared or nervous.
I was able to deduce some of the players in the theft fairly quickly, but what I wasn't able to figure out was the why. It kept me wondering to the end, which I enjoyed.
With intelligent, well-written characters and an intriguing storyline, Under Fire is a must read for fans of romantic suspense.

Book Info:

Publication: August 1, 2017 | St. Martin's Paperbacks | Love Over Duty #1
Hot, hard-bodied Sixten Rapp is a former SEAL who's raring to begin his brand-new civilian life. He and his Navy "brothers" start a security firm that offers the kind of services only a team of military-trained professionals can provide. But nothing prepared Six for his new client: an innocent woman on a mission to improve thousands of lives. . . unless someone takes hers first.
Dr. Louisa North knows time is against her as she tries to create a "miracle" medical treatment for a disease with no known cure, until she creates a sample so powerful that the wrong people want to use it as a chemical weapon. At first, Six is unwilling to accept Louisa as his client. But soon he realizes that the danger is real and that there's much more to this plain-Jane scientist…including a burning passion between them that neither of them can resist. And now that an enemy is on Louisa's trail, Six will do whatever it takes to protect her—or die trying.