In The Nurse's Baby Secret by Janice Lynn  , Savannah Carter thought that everything was going really good in her relationship with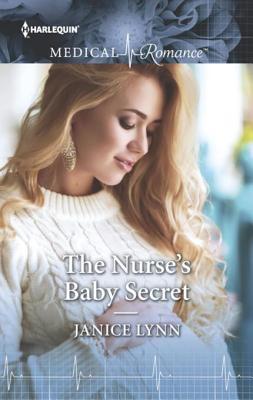 Dr. Charlie Keele until he declares that he's lined up a new job in a hospital two hours away. So, instead of telling him the joyous news that she's expecting, she's determined to keep her distance from him until he leaves. But when Charlie discovers the truth, will he change his plans in order to stay or set her free by leaving before he ends up hurting her even more than he already has?
"You would be better off if you hated me."
She took a deep breath. "I thought so, but I was wrong."
"How so?"
"Because you're basically a good guy. Just because you didn't want the same things from our relationship that I did doesn't make you less of a good guy. It just makes you not the guy for me."
The skin pulled tight over his cheeks and he took another drink. "You'll find the right guy. You're a wonderful woman and any man would be lucky to have you in his life."
I always look forward to reading books by authors I've never read anything by before, and I've got to say that Ms. Lynn has penned an intriguing read in this story, because this couple goes from having a really good relationship to being enemies that end up getting a shot at a second chance because of all that they go through. The way this story started had me feeling sorry for the heroine because she's happy one moment and then completely devastated the next. How is she going to handle not being with Charlie? Will her and Charlie's break-up have an effect on her pregnancy?
As for the dialogue, it was intense due to the main characters, and what happens between these two to cause them to go their separate ways. The hero's back story makes him believe he's no good for long term relationships, so I could sympathize with his need for moving on. Yet, in my opinion he was being a bit selfish. Just because his parents thought his existence messed up their lives does not mean it would be the same between him and Savannah. How could it be when it was palpable he loved her? Moreover, I liked that what happens to the heroine makes Charlie realize that there's no one more important than her.
Savannah was strong and brave with everything she goes through. I could understand why she reacts the way she does, determined not to forgive the hero because she believed they were so happy together and to be blind-sided the way she was just made it all seem like a bad dream. Also, I enjoyed how she handled having to be in such close quarters with the hero when something really harrowing happens to her. Will she be okay? While the hero, there were times where he frustrated me. Why couldn't he see that Savannah was the best person to come into his life? Especially considering she's the first person to ever show him the kind of love he deserves; love that is unconditional and forever, if he's willing to give their relationship another chance instead of allowing his past to keep them apart.
"Pain is overrated."
Her mother shook her head. "Love is worth any amount of pain. Until you met Charlie, you never let anyone get close enough to hurt you."
"We see how that turned out." Savannah sighed. "Not so well."
Her mother shrugged. "Maybe. Maybe not."
"What's that supposed to mean?"
"Without Charlie I wouldn't be having this grandchild."
Overall, Ms. Lynn has delivered a really good read in this story where emotions run high and the chemistry was strong and only got stronger with everything that happened between these two. Will they find their way back to each other once the hero realizes he can't live without the heroine? The way this story ended was perfect, as the hero finally finds the strength to talk about how his past affected him and how he didn't want to make Savannah feel the way his father made his mother feel. That moment brought tears to my eyes, but I'm glad he finally came clean with her, as she needed to know. However, it was the epilogue wrapped this story up nicely, because Charlie has finally found the happiness he deserves after having been a burden all his life to his parents. I would recommend The Nurse's Baby Secret by Janice Lynn, if you enjoy second chance romances or the enemies to lovers trope.
Book Info:

Publication: March 21st, 2017 | Harlequin Medical |
Pregnant with the brooding doctor's baby…
Nurse Savannah Carter is ecstatic to discover she's expecting, but before she can share the joyful news with the baby's father—gorgeous Dr. Charlie Keele—he stuns her with the announcement he's leaving town.
Charlie knows Savannah deserves better than he can give her, and pushing her away is for her own good, but that doesn't make leaving any easier. Then he discovers Savannah is pregnant! Now he must win back the woman he loves…and convince her how much he wants to be a family with their beautiful baby.