The Rings that Bind by Michelle Smart: Rosa and Nico are complicated. Rosa is the best PA Nico has ever had. Her Russian is flawless, she's amazingly smart, and she excels at everything she does. During a business trip to California, he notices that she keeps getting messages from her ex, so he does what any normal guy would do – he throws her phone into the ocean and asks her to marry him.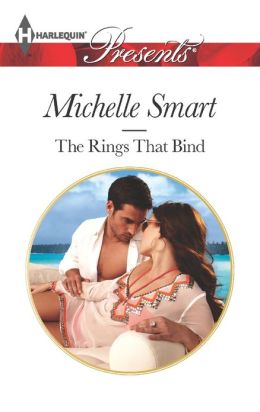 Don't get Nico wrong… He doesn't want to have a 'real' marriage. He and Rosa get along like a house on fire, but their coupling would be like a business deal. She gets security and a definitive end to her last relationship, and he doesn't have to keep fighting off the fake blonde bimbos that want his wallet more than the man that holds it. It doesn't hurt that marrying her assures him that he won't lose a valuable business asset.
Eleven months down the road, Nico comes home from a business trip to find a very sober and serious wife waiting for him. He stood her up on her birthday, and adding insult to injury, he got her duty-free perfume as a gift. She understood that she shouldn't feel entitled to the same things a normal wife should have, but they were friends – and blowing her off was just mean. She admits to him that she took advantage of their agreed upon open marriage and slept with her ex.
Nico is furious. It's not because he has feelings for her, but the feeling of losing has never sat right with him. And to the man who she couldn't wait to abandon less than a year ago – well, that just stung. When she asks him for a divorce, he can't just blithely agree. He bargains with her to give him a month. It will coincide with the end of a business trip he needs to take, and bringing her along to the island paradise should afford him the opportunity to change her mind.
Rosa said she wants more than a ring on her finger and stifling loneliness, so he'll throw sex into the mix. After all, that's what she turned to when the chips were down. Otherwise, why would she even agree to see the man she didn't want before they were married? He doesn't count on having to seduce a woman who clearly wants him, but refuses to give in. There's no way their marriage could be anything more. Nico has no capacity for emotional contact, and Rosa has never wanted it.
Before the working holiday ends, Nico sees that he couldn't have been more wrong.
I can see where 'The Rings that Bind' is polarizing. Right off the bat we find out that Rosa has taken advantage of their open marriage, and that is definitely off-putting. I admit, I really hated that fact. Also, they spend almost a year married without any sort of attraction, so it was difficult for me to feel like their accelerated romance was genuine.
In the end, I turned around quite a bit. Learning about the characters' backstories gave a little insight, and the cheating incident wasn't quite what it seemed. (although, not exactly nice).
In summation – Alpha Hero with intimacy issues, emotionally damaged heroine, a romance with a little bantering, and some pretty sexy love scenes. Not bad for a book I was ready to hate.
Book Info

Publication Date: July 23, 2013 | Series: Harlequin Presents (Book 3168)
On his terms only
The day Rosa agreed to wear Nicolai Baranski's ring she wasn't so foolish as to expect love. Yet nothing could have prepared her for the aching loneliness of her husband's constant indifference—an indifference that proved too much to bear.
Nico is furious—no one turns their back on a Baranski. Rosa has some nerve if she thinks he will just let her walk away. He'll use every sensual trick at his disposal to bring her back, begging for more. And once he's got her where he wants her? He'll let her go. But only when he's ready!