Shine Not Burn by Elle Casey: Starting out I really found Andie to be one hell of an annoying character, which may have been they way Ms. Elle Casey wanted it. But by the end of the book I found myself just as much in love with Andie as I was with the rest of the MacKenzie clan. "Shine Not Burn" was one of those books that catches a reader by surprise multiple times, but ultimately leads to one beautiful ending.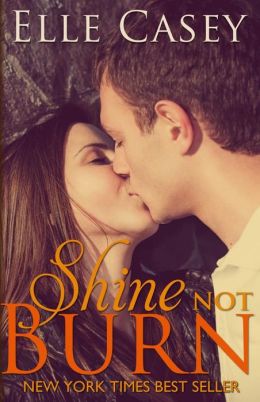 Loving cowboys has always been easy for me, so Mack was an insta-love character for me. Which made the book that much more enjoyable. The only negative thing I have to say about this book is the first fourth of the book felt too juvenile. The writing mostly left me feeling like I was reading a young adult book, but once it jumps ahead the writing became more adult like and I felt like I was easily able to delve completely into the world and story.
"He pulled me against him and kissed me soundly. "No It's not the beer. I might be a little out of it, but that doesn't make me deaf, dumb, or blind. You're something special. Didn't you feel it? The way we fit together so perfectly?" The expression on his face was vulnerable. Like this was important to him.

"Yes." I whispered, so thrilled to be hearing these things come out of his mouth that I couldn't speak properly. I couldn't even think straight. Bells were clanging and alarms were going off in my brain. (Italic) He likes me! A lot! He really likes me! And he's hung like a horse!"
Another selling point for "Shine Not Burn", beyond the smokin' hot cowboys, was the fact that most of the book was set in Baker City, Oregon. Having it set in Oregon made it so much easier for me to actually see the setting of the book, because I have a personal understanding of what Oregon looks like, seeing as I live in Oregon. Ms. Casey pulling off the setting with such acuracy was another thing that helped me enjoy the book that much more. I felt as if I was there with Andie and Mack at the Ranch!
"My life was like a play with actors and scenes and lines I'd written, with a happily-ever-after I couldn't even visualize. Instead of working towards a clear vision of happiness, I'd been head down, Moving in the direction of … nothing. A big cloud of smoke I couldn't see through. I drummed it into my own head, this mantra of success, success, success … but where was the happiness? Where was the love? And why hadn't I realized this before?"
I applauded Elle Casey for her beautiful storytelling and character development! This book for me felt more like an Adult romance, but having Andie be a character that hadn't quite matured brought about the New Adult feel for me. I would recommend this book to Adult and New Adult romance fans alike. Give it a chance to really get started and I can assure you will love this compelling book as much as I did!
Book Info

Publisher: Elle Casey (July 8, 2013)
IT HAPPENED IN VEGAS.  I can't be held responsible. Things that happen there are supposed to stay there, right? Right? Yeeeah. Not so much.
Andie's just days away from tying the knot, but there's just ooooone little glitch. Apparently, she's already married. Or someone with her name is married to a guy out in Oregon of all places, and the courthouse won't issue her a marriage license until it's all cleared up. Tripping her way through cow pies and country songs to meet up with a man who gets around places on horseback is her very last idea of how to have a good time, but if she's going to get married, make partner at the firm, and have two point five kids before she's thirty-five, she needs to get to the bottom of this snafu and fix it quick … before her fiance finds out and everything she's been working toward goes up in flames.