In The Rule Book (The Rule Breakers #1) by Jennifer Blackwood, being expected to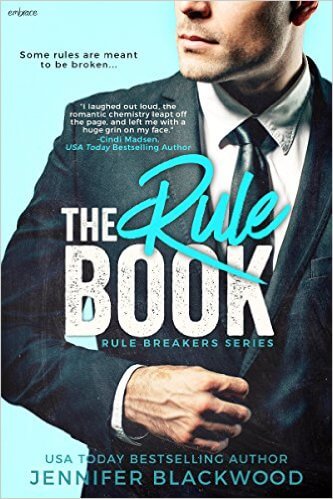 memorize and follow a three-hundred page employee manual at her new job is asking a bit too much of Lainey Taylor, especially when some of her colleagues are determined to cause problems for her, and she hasn't even had the opportunity to meet the boss yet. Will she last a week when nothing seems to be going right for her?
"Right? The real world is so anticlimactic." I pushed my head into the back of the couch and repositioned my feet on the coffee table.
Zoey rolled her eyes. "Not everything can be like the movies."
"If it were, I'd have to do some major snooping in Brogan's apartment for a torture room."
"Hey, I saw those arms. I wouldn't mind being the subject of his torture."
'I'll give you one of the employee manuals. That should have you screaming the safe word in no time."
If there is ever a book that will stick in my mind, and I'll want to re-read any time I have a moment where I need a pick-me-up, The Rule Book would be it. Right from the beginning, this book was amusing, fast-paced, and even though it's only narrated from Lainey's point-of-view, I could not put it down. Truly, Ms. Blackwood had me laughing immediately due to the title of the first chapter, which was one of the rules in the Starr Media employee manual. Why would anyone want to post such words on social media? However, it wasn't only the Rules of the employee manual that the chapters were titled. Lainey had her own rules of life as well.
The dialogue was entertaining, and I enjoyed every single character in this book, even the ones that betrayed Lainey. Whether it was through stealing her work, or setting her up for something she didn't do. Then there were Lainey's inner thoughts that had me smirking, especially the one of what she likes to call the Self-Awares. Yet, it was Lainey and her growing relationship with Brogan, Lainey's reasons for needing the job at Starr Media, and both the hero and heroine's back stories that made this story intense. Brogan is such a stickler for the rules, because he believes they will keep his business afloat. Yet, the closer he gets with Lainey, the more he finds himself unable to fight their attraction. She's the one person he finds he can trust, even enough to reveal things about his past that he doesn't like to talk about, believing that the past should stay in the past.
Lainey is a wonderful character, and I can't believe anyone that reads this book would think differently. There are so many reasons to like her. She's kind and caring with what she's doing for her mother; a mother that is going through a tough time and finding it hard to keep on top of her medical bills. She's also strong, brave, independent, stubborn and tenacious. Indeed, it was her tenaciousness that I liked so much about her; the way she was so determined to succeed in her job, and prove to her boss that he made the right decision in hiring her. Even if she happened to get off to a rough start with her boss by what she calls him.
"I don't know how you just did that but I definitely like watching you with a gun in your hands."
"Yeah?" I pretended to blow smoke from the plastic barrel. "You should see me play Mortal Kombat then. I'm proficient with all weapons." I wiggled my brows.
"I don't know whether to be scared of you or turned on."
A wave of heat licked through me. "Maybe a little of both."
Brogan and Lainey's growing relationship was filled with hot kisses and romance that was nicely-detailed, illustrating the strong chemistry these two had from the moment they met. Lainey brings out a side to the hero that he's not used to, which was good, because he needed to realize that all work and no play wasn't healthy for him. He also needed to realize that some rules need to be broken for him to be happy.
Overall, Ms. Blackwood has impressed me with this book that made me constantly laugh due to Lainey's antics. Certainly, she's not good at following rules. The way this story ended was perfect, as Brogan knows he made a huge mistake in what he did to Lainey. How could he ever believe she would do what he accused her of? Yet, what he does for her more than makes up for it and definitely strengthens their relationship to make Brogan realize that he can't live without her. I would highly recommend The Rule Book by Jennifer Blackwood, especially if you need a book to cheer you up, or enjoy books where the heroine convinces her boss that all work and no play is not the way to live.
Book Info:

Publication: May 9th, 2016 | Entangled Publishing | The Rule Breakers #1
Starr Media Second-Assistant Survival Guide
1. Don't call your hot boss the antichrist to his face.
2. Don't stare at hot boss's, um, package or his full sleeve of tattoos. (No. Really. Stop!)
3. Don't get on the malicious first assistant's bad side.
4. Don't forget to memorize the 300-page employee manual.
5. If you value your cashmere, steer clear of boss's dog.
6. Boss's dimples are lust-inducing. Do. Not. Give. In.
7. "The elevator ate your clothes" is not a valid excuse for showing up to important meetings half dressed.
8. Don't break seven of the rules within the first week of employment if you, ya know, are in dire need of money to support your sick mom.
9. Whatever you do, don't fall for the boss. See rule eight about sick mom.
10. Never forget the rules.