The Scoundrel Takes A Bride by Stefanie Sloane  is an engaging, complex, and colorful, intrigue that will take through the streets of Regency, London.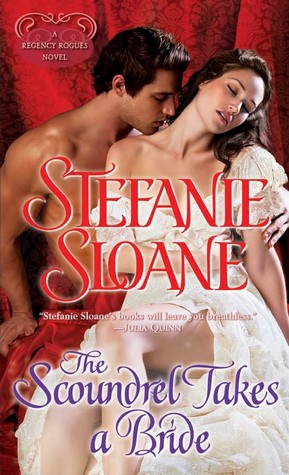 Sophia Southwell has never forgotten the murder of her mother that took place when she was a young girl.  All grown up, Sophia is determined to avenge her mother's death and put her murderer away. She enlists the help of her lifelong friend, Nicholas Bourne to assist her.
As youngsters, Sophia and Nicholas, often had a quarrelsome relationship, but as they work together to bring a killer to justice Sophia comes to see Nicholas in a new light. There is only one problem, Sophia has been promised to Nicholas' brother since she was a young girl.
Nicholas Bourne has always held a secret torch for Sophie, but he feels he could never act on those feelings out of respect for his brother Langdon. He spent years away from London, in India, trying to escape his longing to have Sophia as his own. As he and Sophia explore the seedier side of London he finds it impossible to deny his desire and passion, and things heat up and explode between the two.
The Scoundrel Takes A Bride is books five in the Regency Rogues series. It can definitely be read as a standalone, as I have not had the pleasure to read the other books in the series, and I did not feel as though as I was lost.  Although reading the first four books may enhance the reader's enjoyment.
I really enjoyed The Scoundrel Takes A Bride, the writing is flawless, the cast of characters are amusing, and the mystery will keep you wondering what will happen next. I was a little disappointed in the ending however.  I felt like the relationship between the two brother's could have been explored more in depth, and I felt like I was left with a cliffhanger, as the mysterious death of Sophia's mother was never fully solved.
Although I didn't care for the ending I found the story likable enough to recommend it to those looking for an enjoyable, puzzling, historical romance that will keep you spellbound until the end.
Rating:
Book Info: Publisher: Ballantine Books (January 1, 2013)
A notorious scoundrel, the right Honorable Nicholas Bourne has spent years in the East Indies amassing a fortune through questionable means. Still, his loyalty to his older brother, Langdon, and his childhood friends remains true and trusted. But when Lady Sophia Southwell, the woman promised to Nicholas's brother, seeks his help on a dangerous mission, he is troubled—and torn. Unable to dissuade her from her quest to find a killer, he vows to keep her safe. This makes his mission the hardest test of his wits, honor, and skill. For Sophia is the secret love of his life.
For years, Sophia has planned her daring act of revenge against her mother's killer. She has painstakingly prepared herself by studying the criminal mind. Now she knows that the moment is right and that Nicholas is the man to help her. But she doesn't count on the reckless temptation of his rugged sensuality or the captivating intensity in his deep eyes. When desire and emotion intoxicate her as they venture together into the darkest corners of London's underbelly, Sophia must contend with a yearning even more powerful than the quest for vengeance: the call of love.