Bayou Heat by Donna Kauffman was a very good novel. I liked it and I would recommend it but don't go into it expecting any surprises.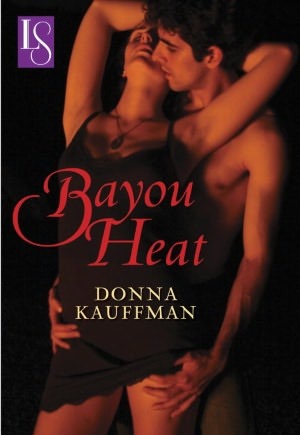 We first meet our heroine, Dr. Erin McClure. She's arrived in Louisiana to further her research. She thinks that she can take the plants and herbs that are used in Voodoo rituals and make practical medicines that could conceivably help millions of people. I think I liked Erin just fine. She is a great heroine. She's gutsy and she knows herself. She's also got that really cool mix of confidence and vulnerability. Erin, having grown up traveling the globe as her father did his research, is full of drive and determination. You know that she can take care of herself and, even better, SHE knows it too!! But there ARE a couple of things she knows she cannot do. One of those things is navigating her way through the secretive world of Voodoo. In order to get the information she needs, Erin knows she must have a guide who can take her into the Bayou and introduce her to the secretive religion and to the high priestess in the area. Lucky for her, this is where our hero comes in!
Teague Comeaux is a seriously sexy bad boy! Certainly not Erin's type, if she has one. But Erin needs a guide and Teague is the perfect man for the job. Not only has he grown up in the Bayou, but his grandmother is the high priestess!! The only problem is that Erin first "meets" Teague as he's passed out, naked, in her bathtub! Of course, that's not REALLY a problem, right? LOL! Anyways, Teague isn't thrilled with acting as Erin's guide but Teague's brother, Marshall, asked him to do it as a favor and Teague is trying to have a better relationship with Marshall. Once he gets to know Erin better, Teague realizes that Marshall has unwittingly done Teague the favor! I felt that Teague was really sexy and absolutely embodied what I imagine when I think about a sultry Louisiana bad boy!
Erin and Teague are so hot together and its not because of the Louisiana humidity! Their chemistry practically jumps off the page. I think that they both have their hands full with each other! Unfortunately, it was a lot of buildup and not a lot of delivery. The way that the author described Teague made me think he had some kind of a troubled background but that was never really confirmed. At least, if it was, I never caught it. I mean, he had a rough childhood because his mom died while he was a young boy and he's never really gotten along with his half brother but it felt like it was going to be something worse… like, he was in jail at some point or was in on a botched robbery that went bad and someone died… that kind of thing. But nope. And we never really find out the specifics on the illegal activity going on in the Bayou.
You may expect this to feel like one of those southern gothic styled romances due to the Voodoo aspect of the book but it doesn't deliver on that either. Combing Voodoo, the Bayou and a man with a troubled past sounds like it would make for a secretive, mysterious, make-your-skin-crawl-type of story but I don't think you'll be feeling a lot of all of that. Of course, I wouldn't know how to write something that would make people feel unnerved but I'm not convinced that the author does either.
After I've said all of that, you may be wondering why I also said that it was a very good book. Well, the simple fact is that I enjoyed it! : ) I obviously have my complaints but all of the good stuff was there: it was well written, had a little bit of mystery (even if you CAN see who the bad guy was from the beginning), had some humor and most importantly had great characters that you wanted to see again. So, I would recommend this book as long as you know what to expect and what NOT to expect when reading this one.
Rating: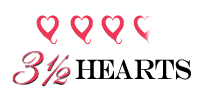 Book Info: Publisher: Loveswept (November 12, 2012)
Dr. Erin McClure needs a guide who knows every inch of Cajun voodoo country. Enter Teague Comeaux—wild, reckless, with a sharp tracking sense that doesn't quit. As he leads Erin deep into the steamy reaches of places she never knew existed, she surrenders to the primal longing unleashed by his seductive heat, losing herself in a world of danger, desire, and spirit magic.
Teague might be a renegade with a past built on trouble, but this Louisiana native and bar owner understands the land and the lore better than anybody. He just didn't plan on falling so hard for Erin. Now he'll go to desperate lengths to keep her safe—and to allow the power of love to rescue a loner's heart.