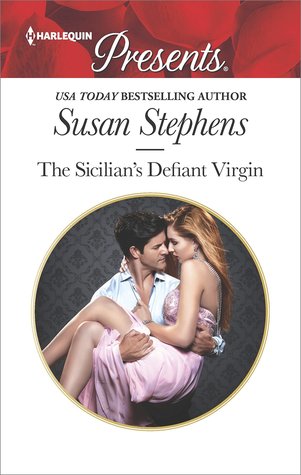 The Sicilian's Defiant Virgin by Susan Stephens: A Mediterranean setting is the backdrop for this sensual romance by Susan Stephens, with family connections for the Tebaldi's dating back hundreds of years. The aged family head, Don Tebaldi, has two sons, Luca and Raoul, neither of whom has followed him into the family business which still has remnants of mafia connections. Luca has become a wealthy businessman following his own footsteps, but Raoul's gambling addiction resulted in estrangement from the family and his recent death in a reckless car accident.
Raoul's will has left his trust fund income, to be released in six months time when he would have come of age to a stranger unknown to the family. As luck would have it, she works for an auction house as her day job and precious gems are her forte. With a new gem purchased for the his father's extensive collection, Luca can have her hired to set up a display of the family jewels on their island, and determine what sway she held over his brother to convince him to name her in his will.
Jen Sanderson works by day at the auction house as in intern for her gemology studies, but is a hostess at a casino at night for extra cash. It's here that she met troubled gambler Raoul Tebaldi. They developed a friendship but when Raoul's brother Luca shows up at the casino, she's shocked to find out that Raoul has passed away. Showing up at the auction house the next day to purchase the gem for his father, Luca makes it clear to her bosses that he and his father want Jen to come to their island to set up the new jewel display. Jen is suspicious at first that Luca keeps showing up everywhere she is, but it's clear that he is grieving his brother's death and she believes his interest in her is really to find out more about the brother from whom he'd grown estranged. Travelling with him to the beautiful family island, it's not long before Luca and Jen share some passionate encounters and become emotionally involved. But when Jen finds out the real reason for Luca's interest, will what they've built withstand the deception?
This is an enjoyable story with likable characters and a lovely setting. Jen comes across as a friendly and smart woman. Her friendship with Raoul was based on sharing confidences about their family situations, Jen having lost her parents and sister and Raoul having some personal reasons for distancing himself from his family, notwithstanding his gambling troubles. Luca is somewhat arrogant due to his wealth and good looks, but he has some charm, and he does have some redeeming virtues. He's a passionate lover and treats Jen well, though of course the real reason for his pursuit of her eventually comes out.
A couple of interesting notes – there is no mention of birth control when Jen and Luca are together which makes a reader like myself assume that by the second half of the story there's going to be a surprise pregnancy. (I won't spoil it for you by telling you if it happens or not). And secondly, the author presents an LGBTQ storyline as part and parcel of the story, which is, in my opinion, a sign of Harlequin getting more in touch with today's romance reader while still sticking to the tried and true expectations of the Presents imprint. So a minus and a plus for HQN on this one. Overall, I think this will please fans of the author and is worth the read.
Book Info:

 Feb 21, 2017 | Harlequin |
Luca Tebaldi spent his life distancing himself from the family empire. So he's furious at being drawn back in by a gold digger who's gotten hold of his late brother's entire estate!
He'll make Jen Sanderson take her claws out of her ill-gotten riches by luring her to his Sicilian island and seducing the truth out of her!
But Luca discovers that Jen is innocent in more ways than one The sensual virgin challenges him and sets his senses on fire, but is he ready to confront the truth she is enticing out of him?