In The Sweetest Summer (Bayberry Island #2) by Susan Donovan, when Evie's sister dies Evie will do whatever it takes to keep her promise to her sister, to keep her young niece safe. Her niece's father is a senator who will do what he has to do to get his daughter.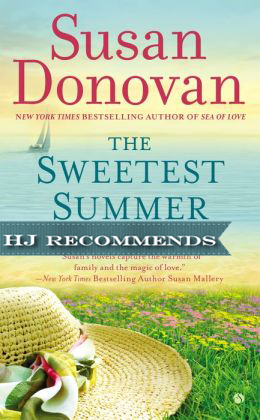 Evie takes her niece and runs to Bayberry Island. In the midst of Bayberry Island's busy Mermaid Festival, Evie is hopeful they can blend into the crowds anonymously until she figures out what to do next. She does not expect to run into the island's chief of police, Clancy, almost as soon as she steps off the ferry. Nor does she expect the chief of police to be the same man who stole her heart as a teenager on summer vacation.
Chief of police Clancy feels a familiarity towards the young woman he spots getting off the ferry and is drawn to her. He's never had good luck in the romance department, and still thinks about the teenage girl who stole his teenage heart one summer. When he discovers who Evie really is, Clancy will have to dig beneath the surface and make some important decisions that will not only impact him but everyone involved.
The Sweetest Summer is a great addition to the Susan's Bayberry Island series. I love how she incorporates the Mermaid legend of the island into the story and makes it such a necessary and important part of The Sweetest Summer. The Mermaid legend about soul mates and true love is a unique way to pull us into the pages.
Clancy and Evie are strong characters who are like-able and realistic. The theme of a lost teenage love is sweet and I really liked that they had that past connection. Susan's use of flashback's to their teenage summer together interspersed throughout The Sweetest Summer really gave me a good understanding of Clancy and Evie and where they came from. The chemistry is stronger than ever between them as adults, and their body's as well as their minds remember each other. Evie today is strong and independent. She will fiercely look after those she loves. Her intentions are good, but she hasn't really thought her way through what she's started. She's cautious, but is going to have to decide quickly if she can trust Clancy. Clancy has never forgotten Evie, and can't believe she's here. He is a protector through and through and wants to help her, but at the same time is sworn to uphold the law. Watching Clancy struggle between the law and love makes him real. I love how Susan brings her characters to life. They are engaging and their story is one that will pull you in. Susan gives a lot of build up to the conclusion of The Sweetest Summer, and left me guessing to the end how it would work out.
There are some great secondary characters that we meet up with again from the previous Bayberry Island book. In particular I look forward to reading more about Clancy's parents and their relationship. His mother is quite a character who I am enjoying getting to know a little more.
The suspense from the situation Evie is in combined with the Mermaid legend and the renewal of romance between Clancy and Evie makes The Sweetest Summer a great romance. Fast paced, equally fun and serious, I'd recommend The Sweetest Summer to romance readers who like small town romance with a legendary flair.
Book Info:

Publication: August 5th 2014 by Signet Select |  (Bayberry Island #2)
A mermaid statue could be the cause of heartbreak or everlasting romance for a practical-minded police chief and his first love—in the second of the delicious Bayberry Island trilogy by national bestselling author Susan Donovan….
Every instinct told Police Chief Clancy Flynn that his island's claim to fame was nothing but a silly tourist attraction. But now and then, he couldn't help but wonder if his lifetime of bad romances—starting with the pretty tourist who broke his twelve-year-old heart—could be traced back to a childhood prank involving that very statue….
Then one day the pretty tourist comes barreling back into Bayberry—all grown-up and on the run with her niece. Though Evelyn McGuinness is wanted for kidnapping, she tries to persuade Clancy that there's more to the story. Now the by-the-book police chief must make the toughest decision of his life: to take Evelyn into custody—or into his arms….