With this Ring by Celeste Bradley is a laugh-out-loud funny novel from Celeste Bradley, the 3rd in the 'Wicked Worthingtons' series. Lighthearted, but with a few profound moments, it is filled with deception, misunderstanding, exaggeration, cross-dressing and mistaken identitie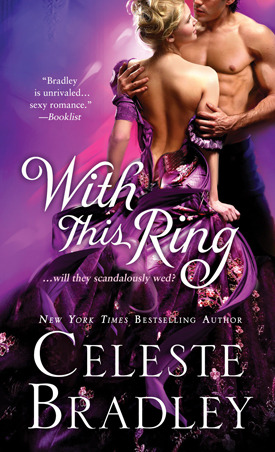 Lord Aaron Arbogast is coming home to England after ten years in the Bahamas, banished due to "poor judgement." He is now back to visit his ill grandfather and try to win back his position as heir. His loyal valet, Hastings, falls ill, and with only half a mile from Arbodean and his grandfather Aaron has to stop and take him to a nearby inn. Because Aaron is driving the horses, and Hastings is riding, when they get to the inn Hastings is assumed to be the master. Aaron allows this, so that Hastings can have the good bed and treatment, while he sleeps in the stable. Coincidentally, Elektra Worthington and her brother Zander are staying at the same inn.
Elektra intends to marry someone titled and wealthy, by hook or by crook, and the scandalous Lord Arbogast is on her list. When she finds out that the elusive lord is in the inn, she concocts a bold plan to be ruined by Lord Arbogast by kidnapping him. Aaron sees Elektra as a crazy woman, and manages to convince her that she kidnapped Lord Arbogast's valet! Elektra is appalled since she is highly attracted to the handsome man and has put herself into a compromising position. And although Aaron is upset about being accosted by a very pretty but insane young woman, he has been celibate for a very long time, and finds her irresistible. He's mad at her, she's going to ruin his life and future but… he just can't help kissing her!
His fury boiled over. Without planning to do anything but deliver a sound scolding, he reared up and grabbed her by the shoulder, pulled her face close to his and—He kissed her. Again. Hard.
Elektra isn't evil, or even that money-grubbing. Her family is large, and not very good with money or managing themselves. Her parents are loving, but in their own world, her brothers protective but absorbed in their own pursuits, and her baby sister Attie is precocious and a little odd. They lost their family manor in a fire, and are all stuffed into the family city home. Elektra is the 'sane' Worthington, and feels it's her job to save them all from themselves, and she'll do this by marrying money. Aaron, on the other hand, has finally nearly worked himself out of scandal, and the last thing he needs right now is another scandal to upset his reconciliation with his grandfather. Elektra, of course, is a scandal just waiting to happen, but in his nobility, he can't leave her behind and alone and thus has to continue to perpetrate the deceit about his true identity. Of course, as the book proceeds, this the lie gets bigger and bigger, and harder and harder to maintain!
When you come right down to it, "With this Ring" is a farce, and a funny, well-written one too; I can imagine it being staged as a play. Elektra and Aaron get into situation after situation, and even though sometimes these are amusing, there is often a kernel of a truth and feeling that elevates it above silliness. Although it is a third book in a series, and I haven't read the first two, I didn't feel like I had missed very much, although I would like to know more about the other characters that appear, especially Elektra's many and varied brothers. If you're looking for a light and entertaining read, look no further!
Book Info:

Published July 1st 2014 by St. Martin's Paperbacks
From bestselling author Celeste Bradley comes With This Ring, a delightful tale about the lengths one woman will go to marry—at all costs…
THE RULES OF ENGAGEMENT
Elektra Worthington is the lovely middle daughter of the eccentric, impoverished Worthington family. Her beauty means nothing to her except as her currency to return the Worthington name to its former glory of status, riches, and dominance in the ballrooms of Regency England. To this end, she will stop at nothing—even if she must kidnap a rich lord in the process. If this lucky gentleman is just returning from a long absence and knows nothing of the Worthington reputation, well, a girl shouldn't look a gift lord in the mouth…right?
THE PRICE OF PASSION
Lord Aaron Arbogast, returning to England after a decade-old scandal—of which he was not truly guilty, but instead took the blame out of loyalty to a good friend—is the last of his line. He will someday become the Earl of Arbodean and inherit the estate…if, that is, he can prove to his ailing grandfather that he is a reformed man. Falling for a woman like Miss Worthington could cost him everything. But his desire for her? Priceless…