In The Wedding Date: A Christmas Novella by Cara Connelly, Cody Brown is definitely a long way from home, he realizes, as he trudges through the sleet and snow in Boston. The Texas born ER doctor is on the hunt for a place to live and he's been told realtor Julie Marone is just the woman to help him. However, Julie seems immune to his charms when he tries to persuade her to find him a condo. Cody knows there is chemistry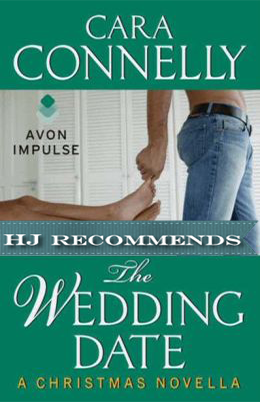 between them, he can sense her interest in him, but something is holding her back.
'Julie Marone, he decided, was a package that needed unwrapping. Well, it was Christmas, right?'
Cody isn't one to give up easily, so he continues to chip away at Julie's resolve until she agrees to help him with his housing dilemma. As he learns more about her and the painful reason she pushes people away, especially him being a doctor, Cody's feelings for Julie deepen. He only hopes he can find a way to help her move past the pain and to be ready for the relationship he wants to build with her.
"Julie," he said in that slow, Texas drawl. "Can't you make an exception for me?"
She tried to say no, to resist his pull. But he held her gaze, tugging her irresistibly toward blue skies and sunshine. Her breath gave a hitch, her stomach a dip. And her heart, her frozen heart, thumped at last.
Julie Marone's family is breathing down her neck to find a date for her sister's Christmas Eve wedding. It has been a few years since her fiance passed away, and she knows she should be ready to move on. But knowing she should be ready and actually being ready are two very different things. Then cowboy Cody Brown walks into her office looking for a realtor. Sexy doesn't even begin to describe him. And then there's the electricity between them. But that all changes when he tells her he's a doctor.
'In under twenty minutes Dr. Sex-Me-Up had exploded three of her hard-and-fast rules: Couples only, dream houses only, and no doctors in her life in any way, shape, or form.'
The Wedding Date is an emotional, sexy novella to start off Cara Connelly's new Save the Date series. If the series is as well written and flirty as this story was, then count me in.
I was honestly a little conflicted when it came to Cody's character at first until I got a little further into the story. He comes across as a player, and a bit chauvinistic as well. But thanks to this being written from both pov's, switching seamlessly I might add, I understood his actions better and liked him more. Julie, on the other hand, I connected with quickly only to become frustrated by her choices, even though I already knew why she felt like she did. In the end it all worked out for our protagonists (as it should!) but it was a roller coaster of emotional baggage to get there.
Cara's writing style was a lot of fun to read and I thought she was very creative in her descriptions and dialogue. Even though some of the plotline dealt with very heavy situations like overcoming grief and fear, there was still room for flirting between Cody and Julie and some spicy love scenes. It gave the story a nice sense of balance and kept it from becoming too dark.
Overall I really enjoyed The Wedding Date. The characters were complex, their chemistry was great, and the plot was interesting. I look forward to reading more in this new series by Cara Connelly.
Book Info:

HJ Recommends  
Expected publication: November 19th 2013 by Avon Impulse | Series: Save the Date
In The Wedding Date, Cara Connelly launches her new Save the Date series, about the magic—and mayhem—of weddings!
Julie Marone isn't your ordinary matchmaker. Instead of setting up singles, she matches already-happy couples with their dream homes. And since she lost the other half of her own happy couple, it's her passion.
Cody Brown isn't your ordinary cowboy. Instead of roping runaway steers, he wrangles sick kids and strung-out junkies as an ER doc. And since his brother lost his wife to a drunk driver, it's his mission.
When Cody moves from Austin to Boston, he wants Julie to find him a condo. But not only is Cody single, he's a doctor, and ever since her fiancé died, she's got a major grudge against doctors.
Cody angles to be Julie's date for her sister's Christmas Eve wedding but discovers that her "no doctors" rule is unbending. Still, he's not quitting. If Cody has his way, they'll be a couple by Christmas, and the next dream house Julie finds will be their own.