In The Girl Next Door by Peggy Gaddis, Betsy Drummond was the girl next door to Peter Marshall. The only problem is that before Peter went to war she was a carrot-topped freckled girl and while now she is a passionate and beautiful young woman, Peter will always remember her as that girl while she has loved him all her life.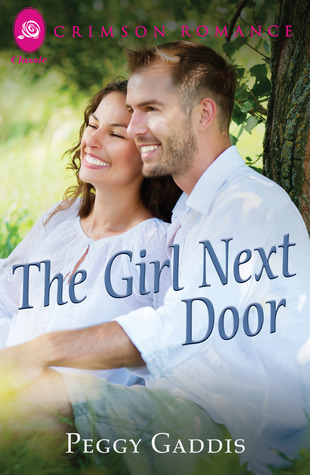 Peter Marshall is returning home from war blind. He doesn't want pity or unwanted attention to his disability. He remembers Betsy as the carrot-topped girl that would follow him around everywhere and pester him all the time before he left. Now he cannot see her for the woman she has become and no matter what Betsy does, he still sees her as that girl in his mind.
Betsy tries to help Peter with his disability and finds ways to make his life easier, to the point that she trained a seeing dog for him. Only Peter doesn't want to impose on anyone, not even a dog. When Betsy introduced Peter to her new neighbor Marcia Eldon, she hoped it would be a way to help him socialize.
What she didn't count on was that Marcia would set her sights on him and he would be attracted to the experienced older woman. Now Betsy will have to deal with her heartbreak and the talk in town since everyone has always known about her love and infatuation with him.
Things will not be easy for either Pete or Betsy and when the truth comes to light about a certain singer and her intentions, everything will get more complicated for Betsy. And it will take a second person to let Peter know what a treasure he has been throwing away for the shine of a fake one. But it may be too late since now Betsy will be the one leaving and he will have to prove to her that he sees her as the woman she now is and not the girl he remembers.
For really sweet, heartbreaking and really fast read, don't miss In The Girl Next Door by Peggy Gaddis.
Book Info:

October 21st 2013 by Crimson Romance
Betsy Drummond was the girl next door, a passionate and beautiful young woman who was fighting to protect the man she loved—a man blinded in battle, who remembered her only as his carrot-topped teen-aged neighbor. Betsy had always known that when Peter Marshall came home from the war, she'd make him realize she was grown up now and ready for romance. What she hadn't counted on was Peter's blindness and the presence of Marcia Eldon, a gorgeous singer with a one-track mind, and the track she had settled on was Peter Marshall…