In Doubting Abbey by Samantha Tonge ,Gemma is taking her roommate, Abby's place in a reality show where stately homes are competed against each other to win a prize of million dollars for renovations for their properties. The winner is decided by the public and its up to the aristocratic families to convince them to vote in their favor. Abby's uncle, Lord Croxely has put up Applebridge Hall in the reality show and to win the grand prize he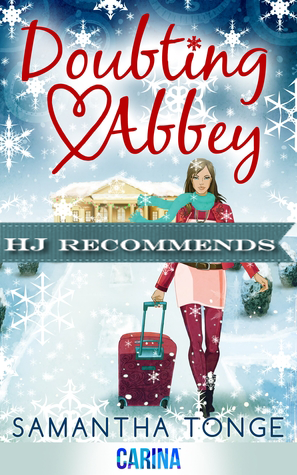 needs the help of his estranged niece. Now Abby has already made plans to go on a restoration project in Africa with her boyfriend and is not willing to pull out the last minute for a reality show but mending relationships with her estranged uncle and cousins is also important to her.
Enter Gemma Goodwin, her roommate and best friend who is an exact doppelganger of Abby when she does not have layers of makeup on. She just needs to take Abby's place at Applebridge Hall and play pretend in front of her estranged family and national TV. Now it is not easy as it sounds because Gemma is nothing like aristocratic Abby and she soon manages to mess things up as soon as she reaches her destination.With everyone doubting her identity,Gemma's job to play pretend starts getting a lot harder than what she imagined and her feelings for her supposed "cousin" Lord Edward complicate things even more.
'Goodness, he looks, um, terribly serious,' I said. 'Who was he, Uncle? Some important politician who knew our ancestors? Or perhaps a film star who visited? He looks as if he could play a believable stern villain.'
The Earl's cheeks flushed. 'That's Papa.'
'Oh…um…' I stuttered.
'Really, Abigail,' he said. 'I'm surprised you don't recognize your grandfather.'
Doubting Abbey by Samantha Tonge had a well written, different and well executed plot line .I liked how the concept of reality TV show is incorporated in the story and I don't know how a concept of competing stately homes for a huge restoration prize would fare in real life but it was certainly impressive in fiction. Gemma was such a lovable character and she made me laugh every time she made a goof up or showcased her acting and cooking abilities.She was the main reason I loved the book and it was so easy to like her.Lord Edward was a buttoned up character who was active on the blogging sphere and he reminded me of Mr.Darcy and despite his declaration that "he will never, under any circumstances, resemble some sort of romantic hero like Mr Darcy."The other characters are also fun to read and are a great addition to the story.The only thing which let me down was the slow pace and a ending which seemed incomplete.
Lord Edward Croxley and me kissing?
It was mad. Mental. Totally random.
How could that irritating, uncommunicative, unreadable, mega frustrating man be the one for me? He stood back, eyes crinkled at the corners, then grabbed my hands and squeezed them almost tighter than I could bear.
'Come back, again, Gem,' he murmured.
'Tomorrow. Do me the great honour of meeting me by the pond at midnight.'
Overall Doubting Abbey by Samantha Tonge is a well written, engaging and fun read due to a different plot line and lovable characters. A recommended read for all the lovers of Rom com and chick lit.
Book Info:

HJ Recommends
Published November 10th 2013 by CarinaUK
Swapping downstairs for upstairs… How hard can it be!?
Look up the phrase ordinary girl and you'll see a picture of me, Gemma Goodwin – I only look half-decent after applying the entire contents of my make-up bag, and my dating track-record includes a man who treated me to dinner…at a kebab shop. No joke!
The only extraordinary thing about me is that I look EXACTLY like my BFF, Abbey Croxley. Oh, and that for reasons I can't explain, I've agreed to swap identities and pretend be her to star in the TV show about her aristocratic family's country estate, Million Dollar Mansion.
So now it's not just my tan I'm faking – it's Kate Middleton style demure hemlines and lady-like manners too. And amongst the hundreds of fusty etiquette rules I'm trying to cram into my head, there are two I really must remember; 1) No-one can ever find out that I'm just Gemma, who'd be more at home in the servants quarters. And 2) There can be absolutely no flirting with Abbey's dishy but buttoned-up cousin, Lord Edward.
Aaargh, this is going to be harder than I thought